​Favorite exchanges continue....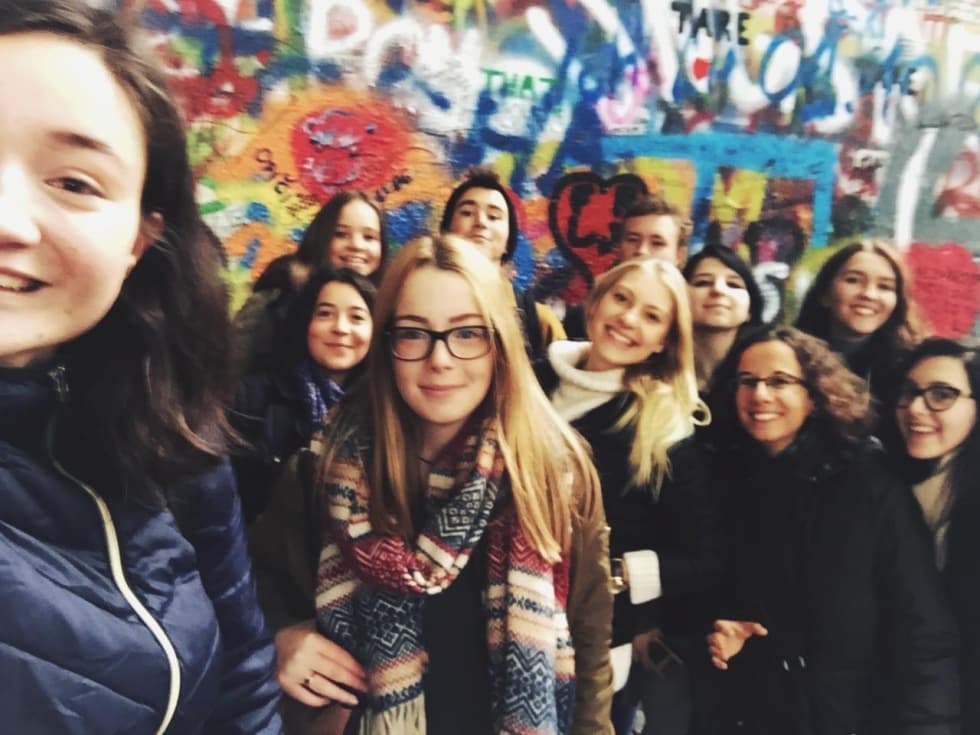 On Friday, October 7, a French visit from Brittany was welcomed at Open Gate. Five students - Nolwenn, Emma, Englantine, Camille and Malo, who were all impatient to join Sexta in their daily routine at Open Gate, finally arrived in the evening.
We didn't want to waste any time, therefore on the first day after the French students' arrival, we planned a trip to Prague. During the day, they managed to walk through the Old Town and so they got to know the heart of the Czech Republic at least a little bit.
On Monday, each of the students chose their preferred classes, which they were taking with us the following two weeks. History, biology and art class were the most popular choices. After school, the French students dedicated their afternoon to yoga, photo club and gardening. After the students had a chance to taste and even participate in the preparation of typical Czech specialties, Czech potato hash browns and "štrůdl". In the evening we organized a "soirée" where our correspondents could eat our afternoon's creations and even taste typical Czech treats.
On Saturday we visited Prague once more, however this time with Mrs. Perekopská. At first, we introduced our visitors to some basic information about Czech history by taking them to Museum of Communism. After visiting the museum, we went to see the Charles Bridge and we sang and took photos next to the Lennon's wall at Lesser Town. Furthermore, in the evening they had the chance to watch Pelíšky, a movie that portrays the events of the year 1968.
For the rest of the week, the French students spent their time at Open Gate and its surroundings.
When the weekend came, each of us took our correspondent to our families at home. All of us prepared an entertaining and original program, that could show the students how we usually spend our weekends and show our Czech culture, so with the French students we mostly spent our weekends at food markets, castles or local galleries, in different parts of Bohemia.
After two days spent in cultural environment, we all returned to the dorms and so the new week begun.
On Monday afternoon, we had the chance to go bowling in a nearby village, Vojkov. The Czech and the French teams put a big effort into the game, as if it was a question of life and death. After an exhausting and tense game, the Czech Team's score ensured us a winning triumph.
In the following days, all of the French students, Nolwenn, Emma, Englantine, Camille and Malo, spent their classes and extra-curricular activities with us. Even the younger students of French language classes appreciated their presence because they could spent time with them in the lessons.
The evening before their departure we prepared one more cultural event, the screening of Kolja, a Czech movie from 1996.
On Friday, at 11 am we exchanged our last bisous bisous and with that we said our final goodbye to our correspondents, lifelong French friends who we will be able to see again in May next year, when we visit them in Brittany, their home.
Adéla, Tea, Natalie, Tereza, Václav
Article.
lb_footer_author()