Dormitories
During grammar school study students can live directly on campus in four dormitory buildings. They come from all corners of the Czech Republic. They typically arrive on Sunday evening and most go home on Friday afternoon. Some of the older students also stay over the weekend.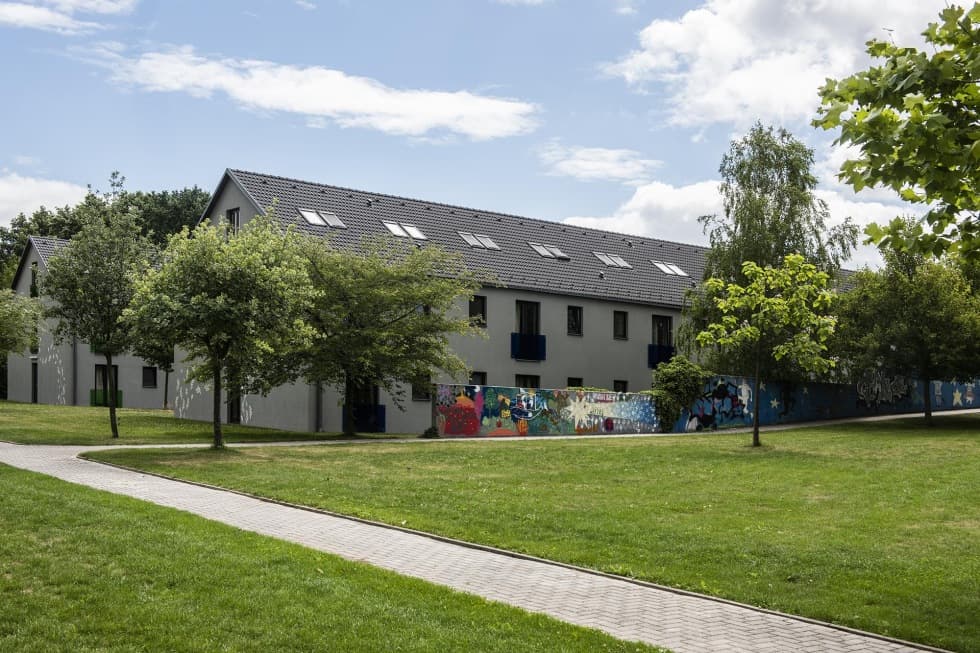 As a result, learning at our school doesn't end with the last lesson of the day. We actively devote ourselves to our students and provide them with a wide range of opportunities for self-development in their leisure time. As well as diverse activity groups, academic clubs and even events planned by the students themselves, the environment of the school dormitories also helps us in this regard. Students can spend time with their friends there, prepare for upcoming lessons together or simply relax.
Accommodation
The school dormitories are made up of four buildings, two for boys and two for girls. They are joined together by a social hall. Students often get together here and play ping-pong, billiards or darts. On the terrace outside the hall we hold barbecues and organise discos.
Each room has two beds, though to students in their last year we offer single rooms. This is so that they can prepare for school-leaving exams and university entrance exams with more peace and quiet. Sanitary facilities are always shared between two rooms.
Inside the rooms students have wardrobes, bookshelves and a desk. The rooms are bright and filled with natural light thanks to glass doors that lead out into the garden.
Each floor accommodates 16 students of similar ages and one tutor looks after each floor. The floors are equipped with a kitchen and a common room. There is also a nurse on duty round-the-clock in the dormitories.
Life in the Dormitories
At our school the daily programme is always changing. This always depends on what awaits the students, both in and outside of school on any particular day. Most of the time however, the students' day is as follows.
They get up at around 7am. Breakfast is served in the school canteen between 7 and 8.20am, when lessons begin.
The school day ends at 3pm. Students refresh themselves with an afternoon snack. At around 4pm, they begin a chosen extracurricular activity. This gives them quite an appetite, so they return to the canteen where dinner is served between 6 and 7pm.
Beginning at 7pm younger students have group studies, while older students work independently. For anyone who is not too tired there are also evening activities. For example, they can go to Zumba, floorball, weightlifting, debate club, the theatre or a film. The only thing that remains is a good sleep. Bedtime for younger students is 9.30pm, while older students decide for themselves when they go to bed.
18-metre
indoor swimming pool
Education outside of School Hours
Every weekday between 7 and 8pm students spend time on their studies and homework in the dormitories. First- and second-year students often like to work together. They work on projects or arrange tutoring with their floor's tutor or their older friends. Older students tend to work alone, but they too sometimes like to seek advice from the tutors or their schoolmates.
All-Day Catering
For our resident students we prepare five meals and snacks a day. All food is prepared in a manner that ensures that it remains fresh and nutritionally valuable. We teach our diners that well-prepared, healthy food is also tasty.
We like variety and diversity. Our cooking uses seasonal, local raw ingredients. We also buy meat and vegetables from farmers in the local region.
Breakfast is served in the form of a buffet. For lunch, students choose between three meals, whatever takes their fancy and for dinner they choose between two. They don't have to order anything in advance. One of the main meals is always vegetarian. We offer a selection of two kinds of soup, fresh fruit and vegetables, salads or dairy products to go with it. We also monitor fluid intake.
Even where food is concerned, we always treat our students as individuals. Special dietary requirements can usually be accommodated.
We Encourage Independence
We teach our students to plan their time and to take care of themselves. Accommodation in our dormitories is comfortable and pleasant, but it is by no means a hotel. Students clean for themselves, take care of their clothes and help out with cooking. On top of all this, of course, they must still excel with school, hobbies, extracurricular activities and everything else. They deal with some of these things themselves but much of the time they have to make arrangements with their schoolmates. This leads to independence and joint responsibility. In our opinion, it is the best way to prepare for life, whether living alone or with a partner.
Weekends
Students can also spend their weekends at Open Gate. Most of the time, only a small, roughly twenty-member, group stays at the school. Students prepare a weekend programme together with the tutors. They can go for example to the cinema, the theatre, exhibitions, on excursions, take part in sports and other similar activities. They must also remember their homework.
The school canteen is not usually open on weekends. This is actually a benefit, as the students simply cook for themselves. They prepare a menu, go over it with the tutors, buy groceries and start cooking. The tutors are happy to help and to give them advice. We know that nothing beats food made with our own hands.
Joint Activities
Over the course of the year we arrange a host of traditional activities for our students. We celebrate various special days together such as Earth Day and Valentine's Day. We bake Christmas sweets and make festive decorations, hold traditional folk 'witch burnings' and compare culinary skills. Other activities include excursions, trips to the cinema or theatre, discos, celebrating birthdays and bidding farewell to graduates.
Flexiboarding
Introducing Flexiboarding - short-term accommodation options in OG dornitories for full-time students during the school year.
The full terms and conditions and price list can be found here.