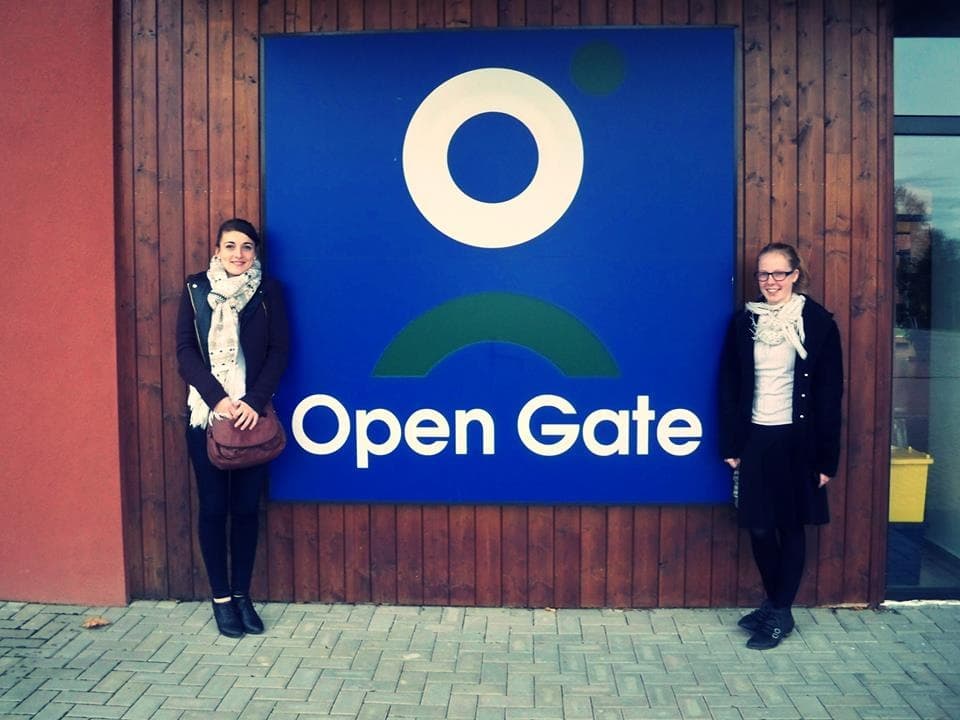 Dear Parents, Guardians, Students, Graduates and Friends of Open Gate,
If the weather outside, this Friday morning, is anything to go by, then I for one am not convinced that Spring has sprung. And to add to the gloom, we are about to lose an hour of sleep time. Well, at least this week had more than its fair share of light and action.
On Monday we were treated to a riveting performance of "The Golem" by Miss Drabkova's students who had been so inspired by their visit to the Jewish Quarter of Prague. The Thursday assembly was a much different affair, taken by Mrs Pospisil, on the theme of stress – much in the minds and experience of our Oktava students preparing for their IB and Maturita marathon. Mrs P alleviated the stress situation with a combination of dramatic interaction, ("Who wants to be a Millionaire) and a deep rooted self- help underlying support message. Incidentally, the "Millionaire" contest was unsurprisingly won by Mr Nitsche's team under the direction of one Leos Males. Congratulations to all, and thanks Mrs Pospisil.
Our Kvinta students are due to return from their ski trip to the Alps this evening. By all accounts this was an enjoyable and profitable learning experience for all concerned. Appreciation to Mrs Gnadova and her team. Information on:
http://www.opengate.cz/cs/aktuality/14797/jaro-v-alpach
All lovers of fine Art were invited to our Oktava students' exhibition presented as part of their IB course demands, information on:
http://www.opengate.cz/cs/aktuality/14799/vernisaz-ib-visual-arts
And we have yet another budding musician in our midst – one Sofia Popova from sekunda – who emerged victorious from the local county rounds of the ZUS Piano competition and is now officially in the National finals. Congratulations Sofia.
Pavel Samcenko, graduate of class of 2013 returned to visit us to share his university experiences with our seniors. Currently he is studying at Cevro (Philosophy, Politics and Economics) prior to that at the University of Buckingham and now is planning to continue his tertiary education in China. Pavel, you have certainly not let the grass grow under your feet – just where do find the energy. Congratulations. To share in further inspirational stories simply visit the Kellner Family Foundation pages where our students, amongst others, await with experiences galore:
http://.kellnerfoundation.cz/univerzity
Allow me now to remind you of the up-coming Run and Help event; this year our major beneficiary will be young Bozena Hradilkova who from an early age has suffered a chronic form of spinal atrophy. At birth all seemed well, but at the age of eleven months her parents received the shocking news that Bozena suffered from a major illness which would progressively rob her of her muscles and motor ability. All illnesses, however minor for the rest of us, are a life-threatening danger to Bozena. All movement, however slight, is a problem. Currently Bozena needs a mechanical aid which will at least allow her to sit up and move a little. Needless to say these aids are extremely expensive and the insurance companies are loath to provide much financial assistance. That which does come is from generous, big hearted outside agencies. We, at Open Gate would like our Run and Help contribution to go towards the purchase of ceiling mounted physical aids allowing her some freedom of movement to sit, wash and train that muscle tone.
Under the direction of Miss Adamova her Jasmine and Juniper troupe of actors will be performing for the general public in Prague next week. This successful and enjoyable musical has deserved to see the light of day for some time now and I know that all who see it will remember the experience for long to come. I take my hat off to you all. Details:
http://www.divadlou22.cz/index.php/program
And at the other extreme of "thespianism" Open Gate welcomes a team of young lady rugby players to take part in a training camp here on campus with our own team, The Babice Bulldogs. See:
http://www.opengate.cz/cs/aktuality/14798/ragbisty-babicke-divci-akademie-7s-si-zatrenuji-s-narodnim-tymem-cr
On that crunching note I bid farewell until next week. All best from all of us to all of you.
Peter Nitsche.
Article.
lb_footer_author()