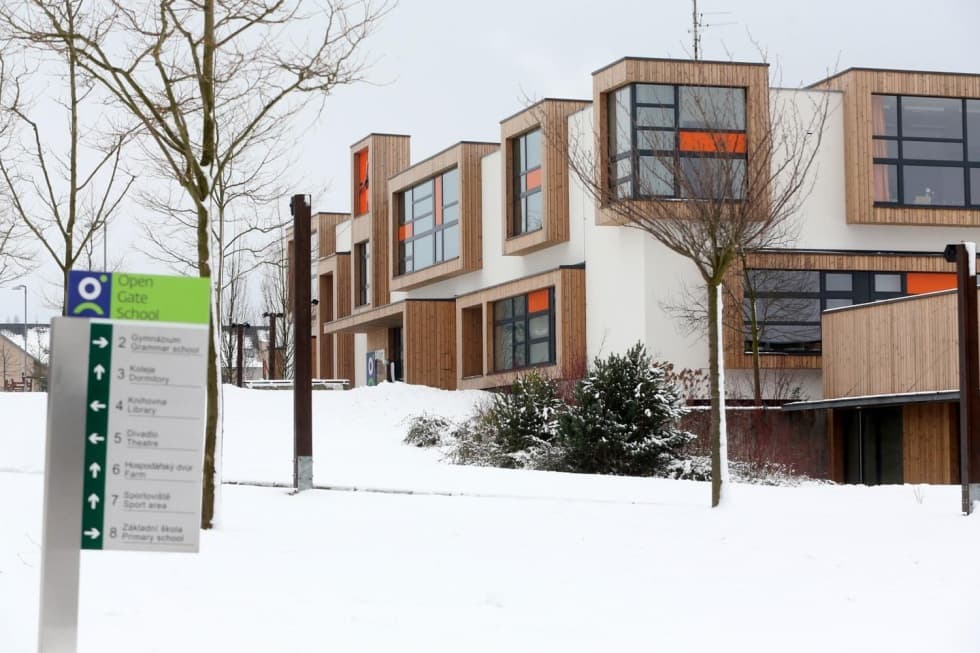 Dear Parents, Guardians, Students, Graduates and Friends of Open Gate,
With the advent of 2017 may I wish you all success, health and happiness in the months to come. The paintings of Josef Lada depicting a traditional Czech winter have come to life, at least here in Babice; frozen pond, snow lying deep all around and the first tentative skaters on the ice. In school itself we continue to teach, study and learn, snow and blizzards notwithstanding.
The first week of the year witnessed the now annual re-union with past students, seventy in all turning up this time – from as far afield as Hong Kong with a stop over in Brno,(Sára, thank you). Thanks to all who attended and made this once more a moving and enjoyable event. And for those who for whatever reason couldn't make it – you missed a lot, but there is always next year.
Whilst on the subject of Open Gate graduates; the New Year staff vs Grads Floorball tournament took place with a well-deserved staff win, 13:8! Revenge for last year's humiliation! Kája visited us yesterday on her way from Karlovy Vary to Maastricht to inform our students about her university experiences in Holland, and more specifically too on the demands of her study of European Law. Informative and useful. Much appreciated.
Mr Chytrý devoted his Thursday morning assembly time to the subject of Theory of Knowledge, one of the central pillars of the entire IB programme; its importance and use not only in study but also later in life. An excellent, thought – provoking presentation. Thankyou to Mr Chytrý.
This morning the Three Kings were wandering the school halls collecting for charity - thanks to all who supported them in their endeavours.
This month will see the end of the first semester. Final exams will be the order of the day with opportunity to do retakes and so improve grades if necessary. Students of Oktava will be sitting their IB mock exams too. Goood luck to all.
A final reminder that January is the last possible month in which to atempt trial entrance tests to Open Gate; on Open Day 19th January.
With all best wishes for the new year ahead. Peter Nitsche.
Article.
lb_footer_author()