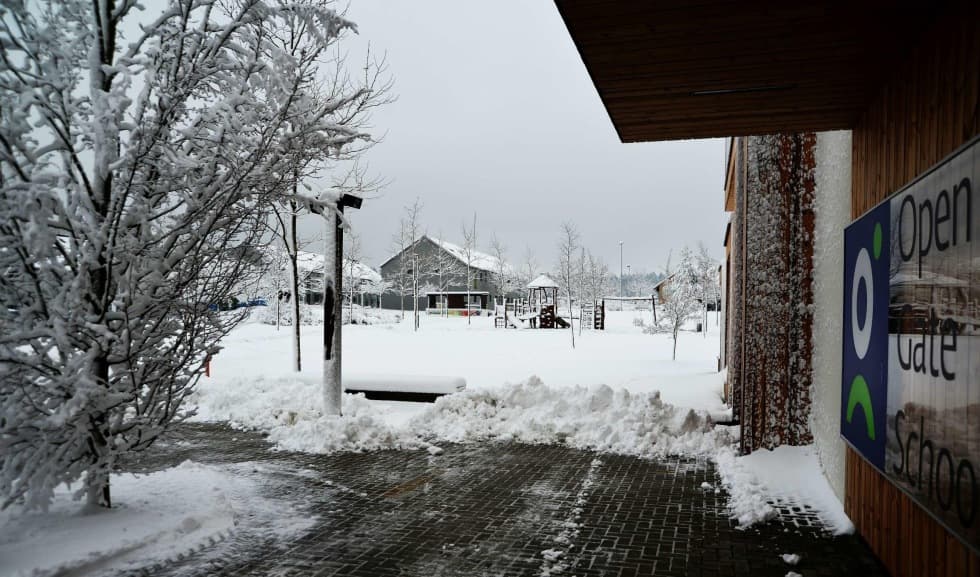 Dear Parents, Guardians, Students, Graduates, and Friends of Open Gate.
The year 2019 started in the month of winter which is clear when you look out of the window. You can see white all around. Do you know what's surprising about it? Well, nothing really, however according to the news in this modern world driven by media, all of it is made to seem like the beginning of an apocalypse. Friends, it is the middle of January, there is snow pretty much everywhere, a tree falls down here and there, sometimes a car loses traction, but it's still just January. The OG campus is covered with snow, which is today beautifully shining in the sun. And the students? The younger they are, the happier they are. They're playing and rolling in the snow and just enjoying winter fun and that's good.
Before we get into the brief overview of this week's events, let's recall the meeting of graduates that was last week. A group photo is on FB, and as always, the event was very nice and pleasant. New experiences, old memories, everything nicely intertwined, and the atmosphere as always was very friendly and informal. We look forward to next year! And until then, I wish not only our graduates but all of you mainly good health, and also adding a bit of luck and a few work-related and personal achievements, certainly won't hurt!
Monday's assembly was dedicated to mathematics in practical life. Students led by our colleague Mr. Michalik presented various school events, cost calculations, and budget preparation. Interesting and useful, thank you!
On Monday, the corridors of the school were once again full of carols within the Three-Kings Collection, and we would like to thank the students from the elementary school.
After Monday's assembly, the IB Mock Exams (international exams) started for our Oktáva students. They have had the opportunity to experience the atmosphere as well as the range of upcoming international exams that will take place in May. We will now evaluate everything and wish them good luck for the real exams.
We welcomed another French student for a month-long stay here at OG, in partnership with a partner school in Brittany. So, we hope she will feel good and welcomed here!
There was another meeting about the possibilities as well as joys and sorrows of the study in the USA, and a special workshop on mental health is prepared for Kvinta today.
At the same time, I would like to remind you that the last chance to visit the school for Open House Day is coming quickly, on January 24th.
Additionally, the OG Chronicle published their first edition just before Christmas. Please feel free to have a look via the following link.
In two weeks there is a semi-annual pedagogical council that will summarize the results of education during this semester. And in less than three weeks, the students will get their reports.
But in the meantime, there will be plenty of events about which we'll, of course, keep informing you of, not only in the Friday letters.
And finally, once again, enjoy the year 2019 full of health and happiness!
Article.
lb_footer_author()