Friday news from grammar school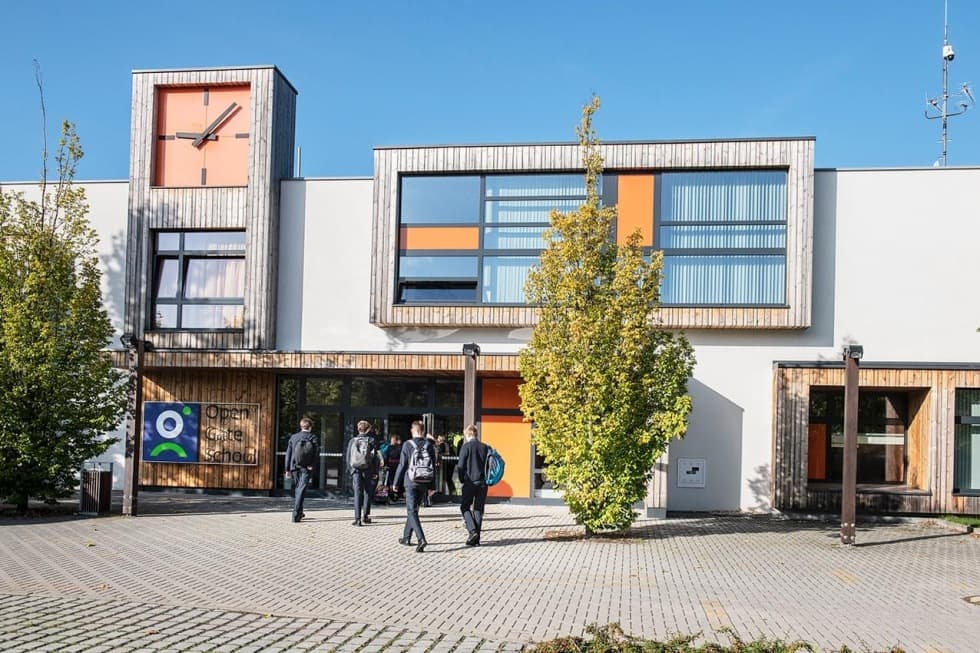 Dear parents, legal guardians and supporters of our school,
The first week of this school year is almost over and I would like to share with you how it went here at OPEN GATE. I have already mentioned earlier that we are used to spending our time effectively; therefore, since the first day of school we have had regular lessons according to the timetable, so from 8:20 to 15:10 (unless you are in Septima or Oktava, in which case you may stay in school longer). The only exception was the first two lessons on Tuesday, the 1st of September, which the students spent with their class teachers. The fact that there was enough to talk about is obvious. Aside from sharing vacation and quarantine stories, the class teachers were tasked with introducing our students to the hygienic measures which we have implemented at our school. Apart from that, a bit of administration took place in the form of collecting various legal documents. Right after that, the students got to work in their other lessons, starting with a reflection of the material they learned in the spring during distance learning. Due to the unconventional end of the last school year, a quick return of textbooks took place, so that at the beginning of the next week, students can pick up textbooks for their current year.
We were reminded of the fact that we are going to have to be very flexible this school year yesterday when Kvarta's day with the paramedics was cancelled last minute. During that day, students were supposed to test in a practical way whether they are able to effectively give first aid. In the morning, one of the course organizers woke up with a high temperature and because he had had contact with his colleagues the previous day, we decided to postpone the whole course. Students thus returned to their classes last minute and their teachers were quickly called from their offices. A new era of course brings new challenges. One of the most amusing ones I saw was the process of putting on plastic gloves when entering the cafeteria. Hence all of us who did not properly dry their hands after washing them, tried out in practice that the physical phenomenon called adhesion can significantly lengthen the time it takes to put on these microtine protective tools. However, in the case of an unconventional hand size (11 in my case) putting on the gloves is hard to do even with dry skin.
At the beginning of next week, we will have an assembly together in the sports hall. Due to a higher concentration of people, all students and school employees must have a mask on. The introductory assembly will then as usual be concluded with a collective photoshoot, which we will, fortunately, do without masks, but not without ceremonial uniforms. Next week will also be quite atypical for our school due to Thursday's autumn graduation term. We will keep our fingers crossed for our few Octava students who could not attend the spring graduation for medical reasons.
In conclusion, I would like point out to you some small changes in our covid manual. There has been a slight change in points 5.4 and 9.4., and the changes are highlighted in yellow.
On behalf of everyone at Open Gate, I wish you a pleasant weekend,
Article.
lb_footer_author()