IB opens the way to prestigious universities for Czech students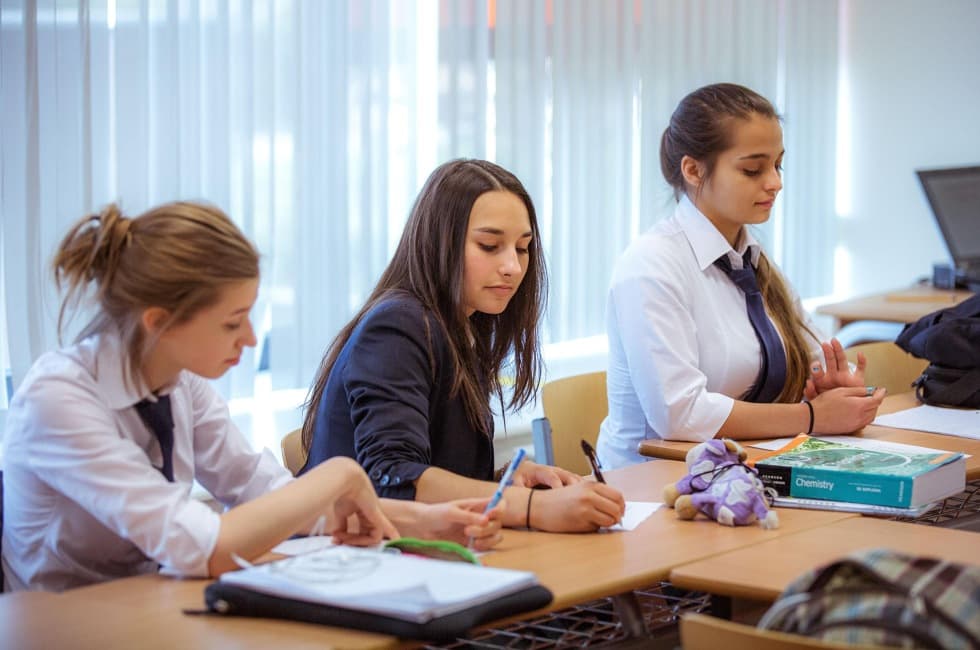 In May 2013, more than 127,000 secondary school students in 145 countries all around the world took their International Baccalaureate (IB) examinations. These students, including the students of the Open Gate eight-​year grammar school in Babice, Central Bohemia are now receiving the results for their examination scripts and other papers. In this year's session, the global average score for diploma students in this challenging examination was 29.81 points, while the maximum possible score was 45 points. Open Gate graduates achieved an average score of 37.2 points, which placed the school among the best secondary schools globally.
"Open Gate students' results are again excellent this year and they markedly surpass the global average. Scoring 37.2 points on average, eleven of our students passed the IB examinations. We are delighted that four of our current year graduates scored 40 and more points and one of them even achieved 44 points. Thus, we are one of the schools with the best IB results in the world. Thanks to these outstanding achievements the doors to prestigious foreign universities are being opened for our students," says Peter Nitsche, Open Gate School principal.

Open Gate students can choose to take the Czech school leaving examination or the IB, or both, at the close of their high school studies. Each year, most of the students elect to take both the Czech and IB examinations. Of this year's 17 Open Gate graduates, 11 passed the complete IB diploma examinations and six students selected one to three subjects of a total of six, and received an IB certificate in these subjects.
| | | |
| --- | --- | --- |
| Academic year | Open Gate IB students' average score | IB students' global average score |
| 2010/​2011 | 35.0 | |
| 2011/​2012 | 36.0 | 29.83 |
| 2012/​2013 | 37.2 | 29.81 |
Peter Nitsche adds in regard to the results of this year's Czech school leaving examination: "Students also performed very well in the Czech school leaving examination. 16 students in their final year took the Czech exam, and 15 of them passed with distinction, with 11 of them having all 1's [A's] on their school leaving examination certificate. In English, they achieved the best possible average result, i.e. 1.0; in Czech, their average result was 1.31."

About the International Baccalaureate Diploma Program (IB DP)
IB is a two-​year course of study intended for seventh and eighth grade students; at OPEN GATE, the course is taught in English and Czech. During the two-​year course students take a number of specific examinations. To pass the International Baccalaureate examination they choose six subjects from six groups of subjects (please see the appendix for the groups).

If, during their time at school, students already are strongly specialized in a certain direction, they need not obtain the IB in the whole range of six subjects but can enroll in courses in only one or two groups of subjects in which they want to continue their education. In such cases they receive an IB certificate for the particular subject.

The IB Diploma Program (IB DP) is recognized by universities all over the world and it frequently replaces admission tests. The requirements of the University of Cambridge are an example of what can be regarded as a good result: candidates considering admission to this university are expected to score at least 40 to 42 points in IB DP examinations.

The maximum number of points that students can score in IB DP examinations is 45 (the maximum number of points in one subject is seven, i.e. a maximum of 42 points for six subjects plus 3 bonus points for the Theory of Knowledge course and a 4,000-word essay). The objective is to encourage students to reflect critically and philosophically on diverse ways of knowing and on the subjects they study. Usually 24 points are enough to obtain an IB.

Open Gate has been authorized to provide instruction under the International Baccalaureate program since 2009, when it started to offer its students the prestigious Diploma Program culminating in the International Baccalaureate. It was the first purely Czech high school in the Czech Republic to receive this certification.

With a view to making it possible for talented children from children's homes, foster families and single-​parent families, or intact but low-​income families to attend Open Gate, the foundation of Mrs. Renáta Kellnerová and Mr. Petr Kellner awards financial grants for their study. Since the high school was opened in 2005, the foundation has provided a full or partial grant for the school fees to approximately 70% of the students.


Notes to editors:
Open Gate is the first purely Czech grammar school certified, since 2009, to teach under the standards of the International Baccalaureate Diploma Program, which is globally recognized by universities, including the most prestigious ones, and which replaces admission tests at some of these universities. The school's mission is to offer academically gifted young people an opportunity to fully exploit their potential regardless of their family background or financial means. The Kellner Family Foundation provides financial support to students who come to Open Gate from children's homes, foster or single-​parent families, or even complete families but with low income.

The Open Gate primary school teaches under the Opening the Gates educational program, which promotes the students' all-​round development. The program complies with the Framework Educational Program of the Ministry of Education of the Czech Republic and is also in line with the internationally recognized IB Primary Years Program.

The Kellner Family Foundation, a family foundation of Mrs. Renáta Kellnerová and Mr. Petr Kellner, was set up in 2009 with a view to promoting mainly long-​term educational projects intended for primary school students and teachers, students of secondary schools and higher education institutions, and also postgraduates. It seeks out and supports academically gifted children and young people who grow up in environments that impede or prevent their access to high-​quality education.

The foundation also provides grants to Czech scientists and scientific teams. It also lends a helping hand to promote the renaissance of the philanthropic traditions and cultural heritage in the Czech Republic.

Open Gate (grammar and primary school) | www.opengate.cz
The Kellner Family Foundation | www.kellnerfoundation.cz
International Baccalaureate | www.ibo.org