What has been happening in the English department this week?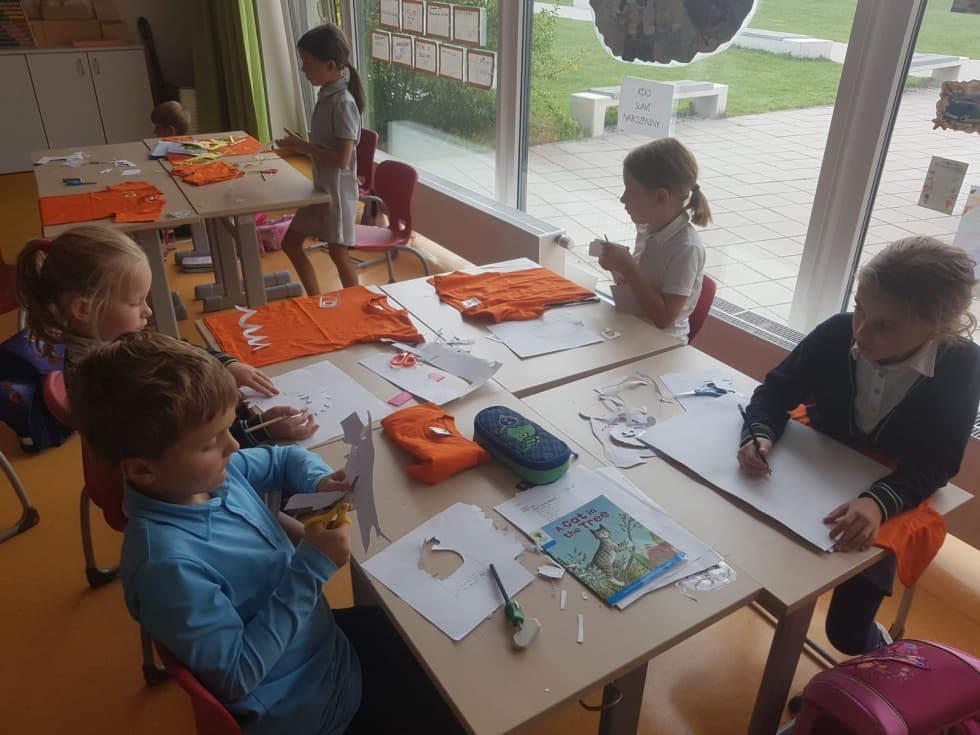 Class 1
This week Class 1 worked on another exciting art project with myself and our Art assistant, Monika. They made wonderful cat shapes on black paper, cut them out and put colored tissue paper for the eyes. We hung these great, creative cats on the glass door into the courtyard to let the sun shine through the cat's eyes in the afternoon sun. We also out giant Cat creation from the previous week in the hallway outside the room. The kids all posed in front of it and were beaming with pride!
Class 2
This week, Class 2 made their own T-shirts. They decorated them in the style of ancient Greek pottery and the results look great! We can't wait to wear them on our adaptation trip in October.
Class 3
In Class 3 this week the students made very creative framed artwork of mountains. Each student told a little story about the history of their mountain. Look for this artwork hanging in the hallway outside of the classroom. (Eric)
Class 4
In class 4 this week, we did some more history of the world. We learnt about Christopher Columbus and his voyages to the Americas in the late 15th and early 16th century. We had a very interesting conversation about what life might have been like on a boat sailing across the ocean for 72 days. Not great was the general outcome! We also did some improvised speaking where students were given different scenes and had to act them out, with a lot of loud shouting and a lot of laughs! (Luke)
In Class 4, we have been talking about knights, chivalry and heraldry. The children learned how every symbol in a coat of arms has a meaning and they got their first ever art homework - to design their own personal coat of arms. We're excited to see and discuss these on Monday! (Jana)
Class 5
In class 5 this week, aside from all the great English work, we drew some very unusual and scary monsters. They will be displayed next week so come and check them out! We also did our first proper music class after learning about different instruments and types of music last week. We started with hard rock and we heard some great music. Everyone especially enjoyed Thunderstruck by AC/DC, check out the video of class 5 rockin' out! (Luke)
The students of Class 5 dove further into our analysis of the news this week. We read and discussed an article related to the 2020 Olympics in Japan. The students were able to relate the issue at hand back to something more local that could affect their own lives. They were very mature and intelligent in their discussion and analysis. (Eric)
Luke Ryan, Jana Kotíková, Eric Wellman Davis