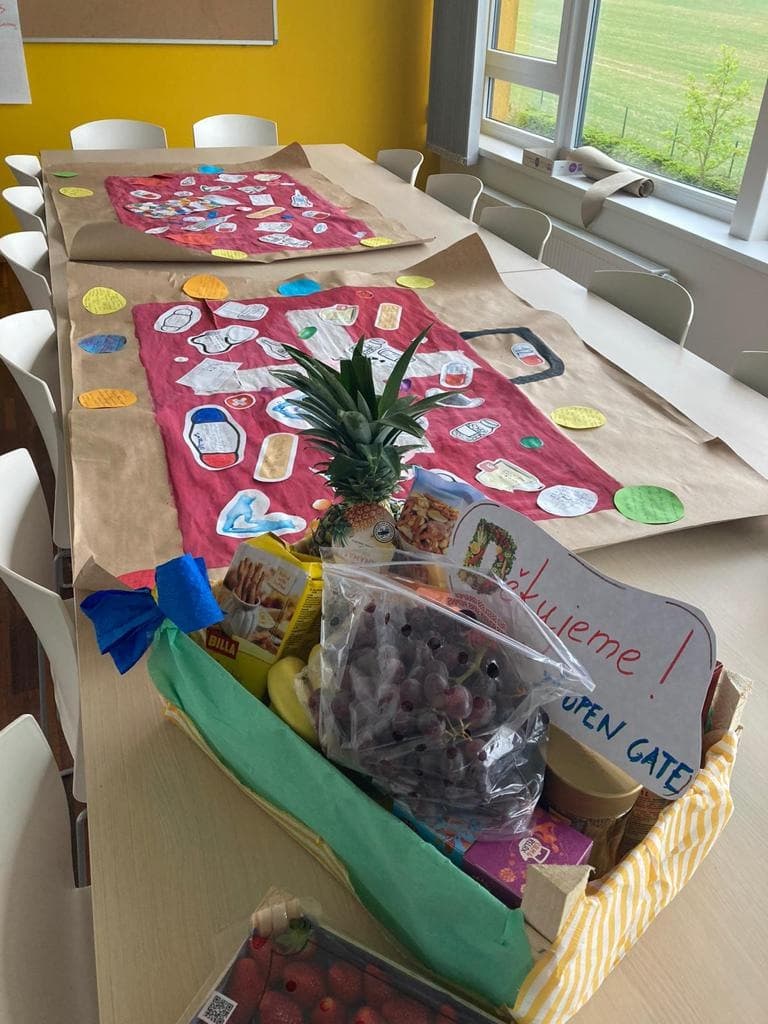 Dear Parents, Legal Guardians and Friends of the School,
This week the temperatures outside have risen to tropical levels, so I am sending only a few warm words from our Primary School team.
The laughter that comes from all possible corners of our area warms our hearts and souls. We are glad that we will finish rotating the classes from Monday, so by the end of the school year we will be warming up the chairs in all classes at once.
On Wednesday, we talked about the work of nurses in all classes and wrote them wishes as a thank you for their daily work. This holiday is celebrated by all nurses, regardless of the medical field in which they operate. The children have come up with different wishes - for example: "The most valuable thing you can give someone is your time - you are the biggest donors and we thank you for that." We virtually sent wishes out to the world, then they were delivered to a home for the elderly in Mukařov, with which we have been cooperating for a long time. ;-)
With a smile in the soul and sun on the face,
Your Primary School Team
And how did the pupils sweat in the individual years?
Class 1
In the first grade, the children were puzzled over individual farm families. With the help of the monkey Žofka, they managed it playfully. They practiced bus travel on a large scale and counted all the passengers. In addition, they embarked on physical education and began to work on their physical conditioning. They remain enthusiastic also because they no longer have to go to online lessons next week. They really enjoy their time at school together. (TČ)
There were many barn yard animal noises coming from Class 1 this week! We learned that farm animals in Canada and the Czech Republic don't always sound the same! We continued our farm theme and created some beautiful barnyard scenes in Art Class and even learned to read farm animal names in English. (CJ)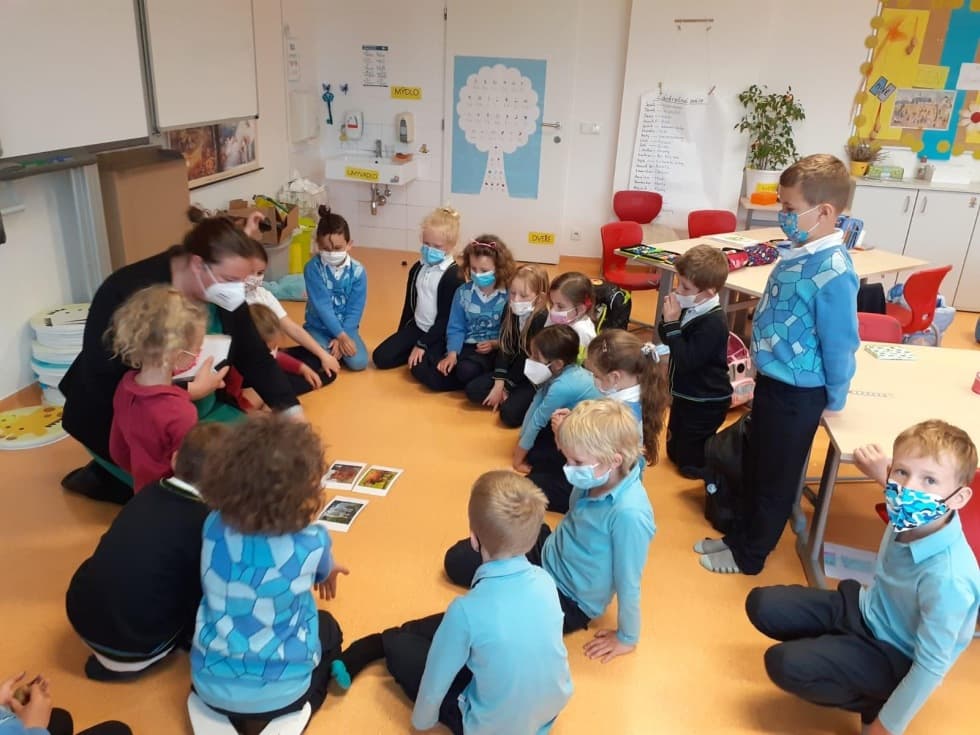 Class 2
This week, the second-graders, thanks to the beautiful weather, enjoyed a lot of outdoor activities in the fresh air. They played sports, read, talked, created and counted. There was also our regular visit to the school library and a very popular football tournament. We started working on the final field presentations, also managing to write letters to the Researchers in the third grade. -Saša, Sašenka and the Globetrotters.
This week Class 2 presented their Incredible English plays! They did an amazing job acting out Mr Fixit, Titch and Fred. Not only did they create beautiful masks to complement their acting they also became masters in using the -ing form to describe what someone is doing. Our creative streak continued throughout the week and we even created our very own boom whacker compositions in music class. (CJ)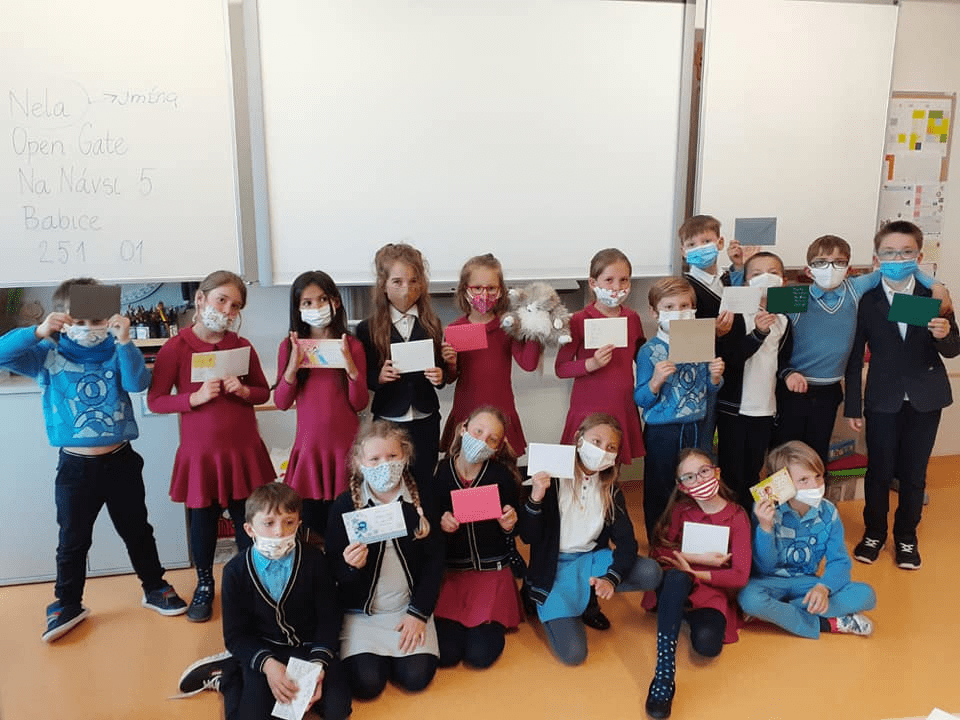 Class 3
The third-class Researchers aren't green anymore! Preparations for the field presentations are in full swing and the researchers have really decided on some very interesting topics. We are anxiously awaiting the delivery of objects for our observations, and we are shortening the moments by being outside with a book or playing various games - if the weather allows it. We also did not forget the nurses who celebrated their day on Wednesday. We returned briefly to the human body and learned other interesting things about it. For example, did you know that bones are 4 times stronger than concrete?
Your Researchers, Marie, Andrejka and Martin
Class 3 started off the week with a game reviewing Unit 7 in Incredible English. On Tuesday, students learned and read about the creator of the Peanuts comic strip, Charles Schulz. Later, students worked on making their own comics strip for the school newspaper. The results were very funny and clever. You will be able to see them in the soon to be published first issue! (JD)
In class 3 this week, we learnt about the importance of language only communication during a fun team game. The class were divided into five teams and one member of each team was blindfolded. Each team had a small coloured square hidden somewhere in the corridor and the other players had to guide their team mate through the corridor without touching them, around the lockers and around the foyer in search of their square. They had to keep their teammate safe and not let them bump into anything as they directed them using only English. The blue team (Ela, Honza, David and Nela K) were the winning team, but they all did very well, no bumping, only English and a lot of fun! (LR)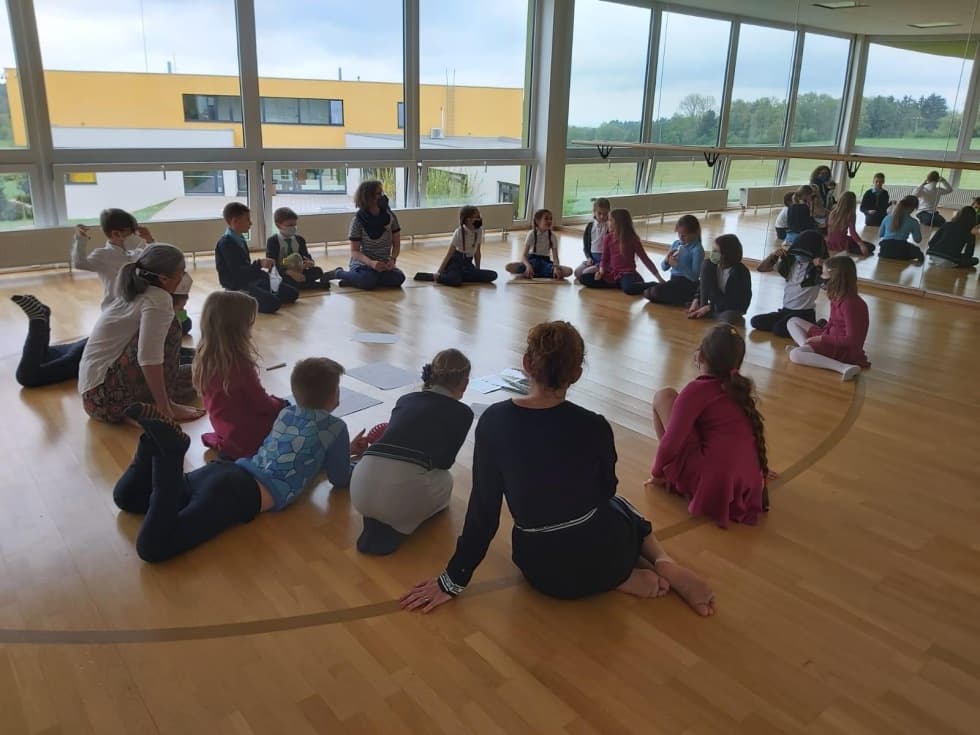 Class 4
Fourth-Graders and Jingle Bells in May?
On International Nurses' Day, the fourth-graders learned how to provide first aid. We have launched a first aid series, which will accompany us until the end of the school year. The series began with the most serious issues- loss of consciousness and cardiac arrest. That is why in May we reached for the song 'Jingle Bells' when the fourth-graders tried to resuscitate a man-made mannequin, who was touch and go at that moment. Other lessons will be about, for example, fractures, burns, bleeding and more. So let's get into it, as it can be really useful one day. Class 4, Terezka and Monča
This week class four focused on colors. More specifically, the psychology of colors and how they can affect our feelings and even shopping habits. We also learned how many colors the human eye can register and even tested the color recognition abilities of our own eyes. Class 4 even learned some common color idioms we use in everyday conversations. The sunny days had us tickled pink, but we didn't let the rain make us feel blue. It was a golden opportunity to learn more in Incredible English! (JD)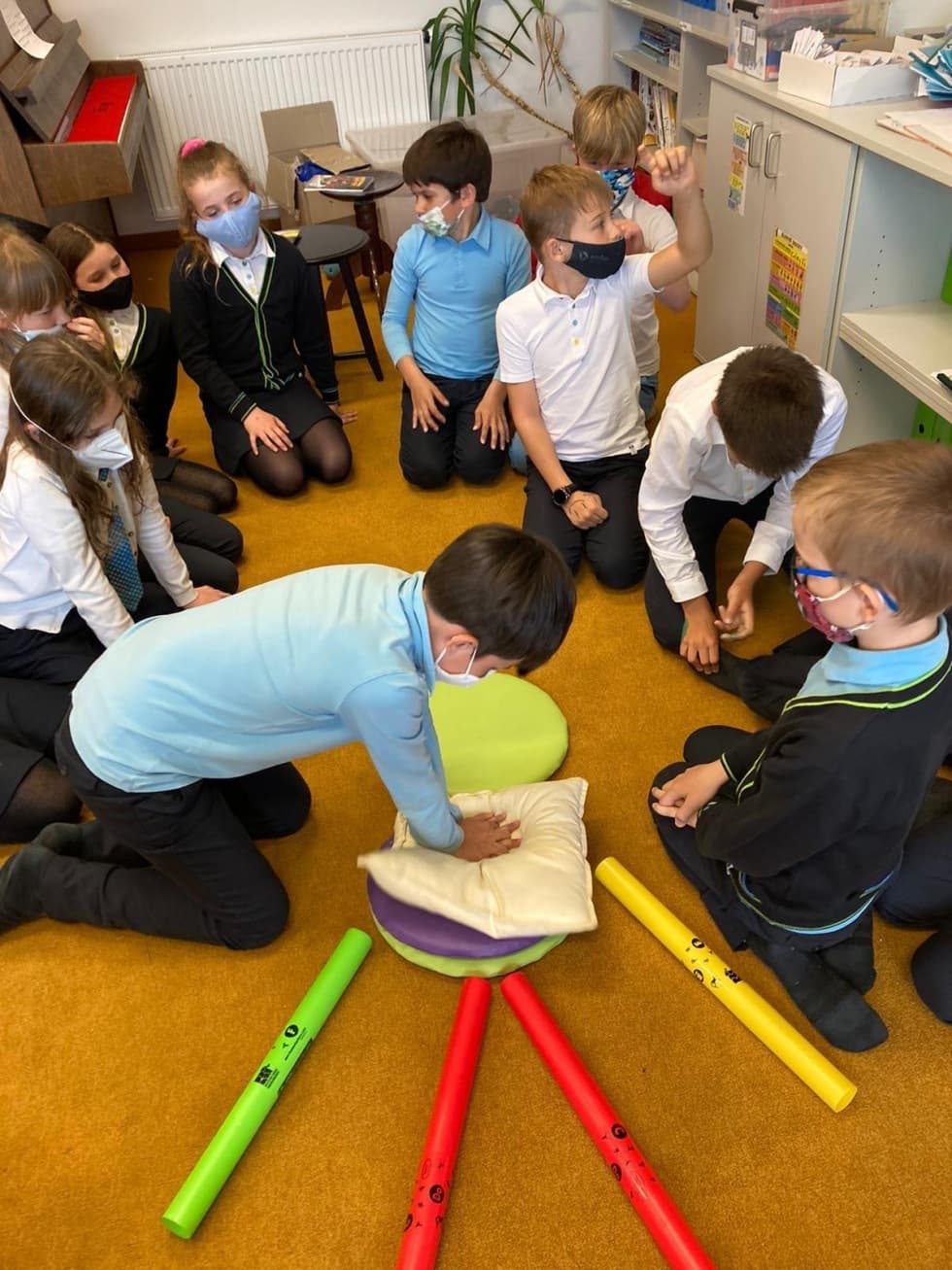 Class 5
After a demanding last week, the soldiers recommended themselves to the online mode and together they remembered what it was like to see only through the screen. Because last Saturday we commemorated the anniversary of liberation and the end of World War II, we focused mainly on this topic this week. We shared materials about the Protectorate of Bohemia and Moravia, the Prague Uprising in May, talked about Operation Anthropoid, the fate of Lidice and Ležáky, and also shared tips on interesting children's books that deal with this difficult period. If you are also interested in this topic, ask the fifth-graders, they will definitely recommend you some literature. (SČ)
This week saw the OG veterans of Class 5 as the lone sloths of the school, sleeping in and rolling onto MS Teams in their pajamas at 8:29am. Uhh, I mean, the lone heroes and leaders of the school, working hard to the final Friday bell and closing down MS Teams for the final week before ALL OG students return to the classrooms. Yeah, that's the correct message! True to that message, the Class 5 students have been All-Stars this week, finalizing all of their work in the Incredible English book before they close it for the last time. They have been attentive, inquisitive and kind, really acting like the mature, seasoned vets of the school that they are. We rewarded our accomplishments with some fun speaking and World Around Us lessons at the end of the week, talking about the rules, positions, intricacies and quirks of the game of baseball, a game they have come to really enjoy this year, playing with Luke on the ol' OG 'sandlot'. Surely they will take this knowledge back to school and beyond, spreading their joy of 'America's favorite pastime' to those near and far. Play ball! (ED)