​Challenging Stereotypes: Tolerance Day at OG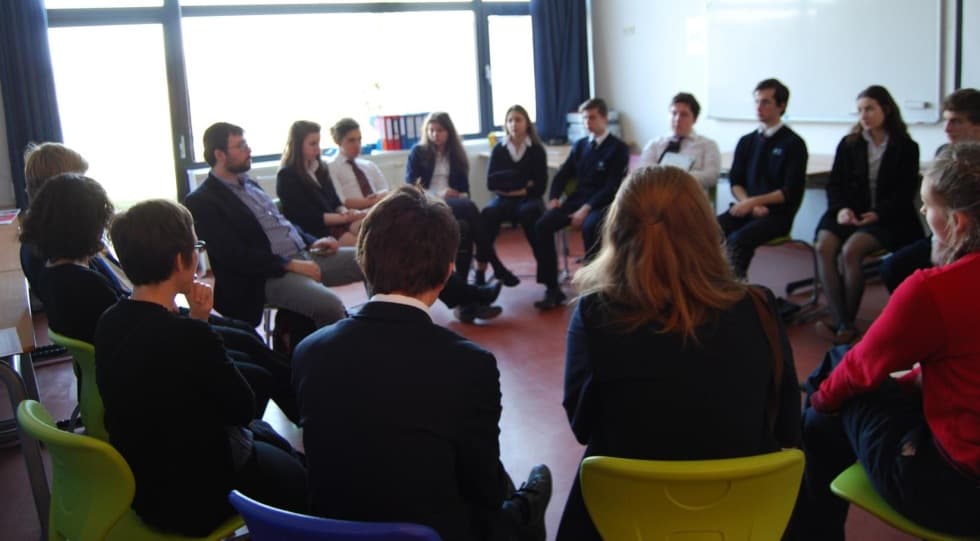 A very special event, Tolerance Day, took place at OG in the morning of Thursday 17th March. Students from Kvarta to Oktava were given the unique opportunity to attend five rotating seminars, each focused on one of the major world religions and led by a special guest speaker.
Guest speakers included:
David Maxa, Jewish Rabbi (Judaism)
Bhuvam and Srishti C, Indian exchange students (Hinduism)
Michael Pockley, Zen-Buddhist monk (Zen Buddhism).
David Guyue, OG teacher (Islam)
Kavita Dyas, a practicing Christian and teacher from Mumbai (Christianity)
In the seminars, students were able to learn about a range of topics from proper Buddhist meditation techniques to what a Jewish 'shofar' (ram's horn) sounds like when blown, not to mention fascinating details about the different deities of the Hindu faith. When speaking to our Muslim representative, students shared important insights about the media's inaccurate reflection and persecution of some groups, while also learning about how Indians have made Christianity uniquely theirs, despite post-colonial roots. At the end of each short presentation, there was time set aside for questions, and students were encouraged to ask about anything that sparked their curiosity. Needless to say some very worthwhile conversation followed. The speakers told all of the teachers involved that they were very impressed by the level of openness our students shared on this highly-personal subject.
After the seminars were finished, students and teachers proceeded to the small sports hall for a group culmination activity. 'Cross the Line', led by Mrs. Pospisil, asked students and teachers to walk across the sports hall in response to a series of questions. The goal of the activity was to challenge perceptions and stereotypes, and make all participants rethink how they look at not only each other, but themselves as well. A small-group debrief followed, in which students were given a chance to reflect on their experience.
Thanks to all the guest speakers, the teachers who made the event possible, and especially to all the students who participated.
Trisha Pospisil
Article.
lb_footer_author()