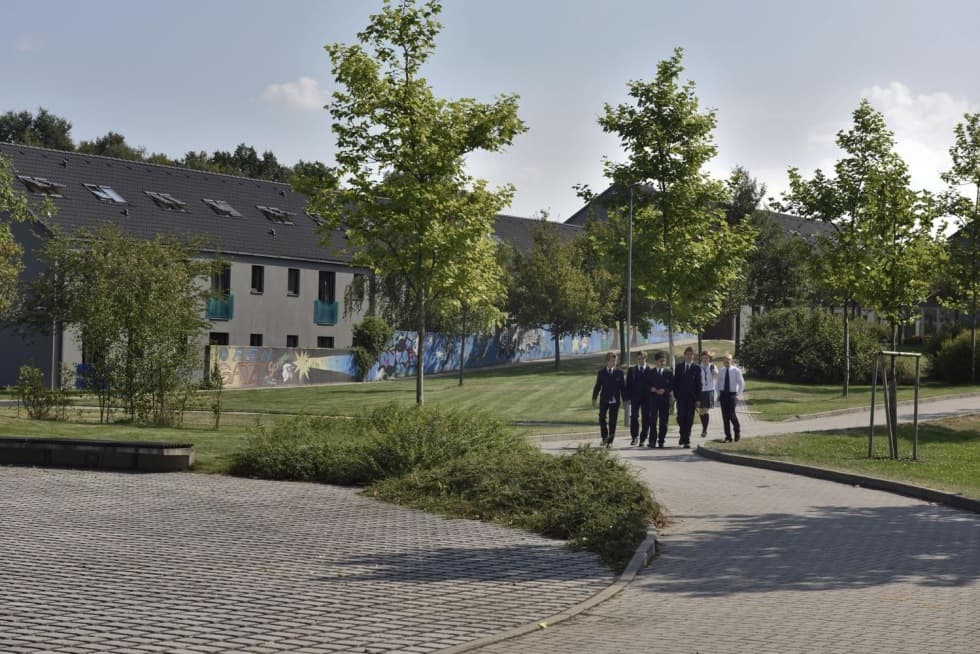 Dear Parents, Guardians, Students, Graduates and Friends of Open Gate,
Spring decided to come back to us and after three peculiarly dry weeks, we finally got a little rain yesterday. For your information, I'm not obsessed with the weather, I just love to regularly inform you because we have readers in other weather and time zones as well. Enough about the weather, as the last shortened week of this school year has passed.
In addition to standard classes, Sexta took a first-aid course, German language studying Kvarta students had an interesting project, Kvinta managed mental health workshops, literary enthusiasts went to a book fair, theater enthusiasts visited the theater, and everyone enjoyed a postponed May outdoor disco. And over the whole week, the IB written examinations continued (even on Monday and Tuesday).
Firstly, I would like to thank Vašek Trpišovský from Kvinta for further co-organizing two runs within Run and Help. The scouts in Červené Pečky and the pharmacists from Kolín, a total of nearly 150 people, ran almost a thousand kilometers and contributed great amounts to the charity. Thanks to all and especially Vašek!
As you know, this month IB examinations are taking place. Mainly on the basis of inquiries from younger students, but also from parents and the public, we decided to bring you a brief informative series about their progress and organization. For today, I chose my professional area - Group 3 - Individuals and Societies (Humanities), namely IB Economics, but the mechanism is the same or very similar in other subjects as well.
What does such exam look like? In addition to the Internal Assessment (a sort of a school section that is externally graded and accounts for 20% of the final grade), a student writes 2 or 3 tests (3 for those who are doing the higher level). Tests vary thematically and in form. While the first is an essay on a given subject, the other is a response to an article provided, and the student uses his or her knowledge to describe the situation and evaluate it. The third part consists of numerical calculations, graphs, and other applications of knowledge. The first two tests last 90 minutes and they include open questions.
So how are they assessed objectively?
This is what a relatively complex and well-organized group of evaluators at several levels is for. Tests are still written by hand, and an international shipping service sends them to the UK center where they are scanned. Experienced and verified examiners are selected to form a team that does the so-called standardization. They mark collectively selected tests, select responses of different qualities, consult opinions with each other for comparison, and with that they create a set of correct responses for the markup system.
Then, they will select evaluated and commented tests for use in qualifying further evaluators. Those first have to go through the training sessions, where they themselves evaluate and then compare their results with those that are set up. Subsequently, they have to pass the so-called first qualification, when they have to correct the next set of responses as the standardization team did.
If they do not pass, they receive feedback and advice from their leader and continue under increased supervision. If this situation is repeated, they can be removed from the system and their work must be done by more successful colleagues. The leading team is still supervised by another experienced colleague, the Principal Examiner. And in the IB headquarters, there are other team members, the manager of the given subject, whole educational groups of subjects, etc ...
Here you can see, that the whole system is very sophisticated and strives for maximum objectivity and correction, especially for open questions. The final evaluation itself has even one more special check. If a student, after seeing the published results, finds out that he missed a higher grade with 1-2%, which is essential for successful completion of the IB or admission to university, he may ask for an additional check. Here again, experienced examinators will evaluate the test, and if they evaluate that the additional change is justified then the student's mark is corrected (but be careful, it may go lower).
I think that is more than enough for the beginning of the IB series. Next time we may look at the technical part of the evaluation and another IB subject.
Fortunately, there are a number of colleagues at OPEN GATE who have functions at different levels throughout the system, so you'll have first-hand information.
This, and much more, will be the content of more Friday news that you can expect in a week.
Until then, have a beautiful week,
Petr Chára
Article.
lb_footer_author()