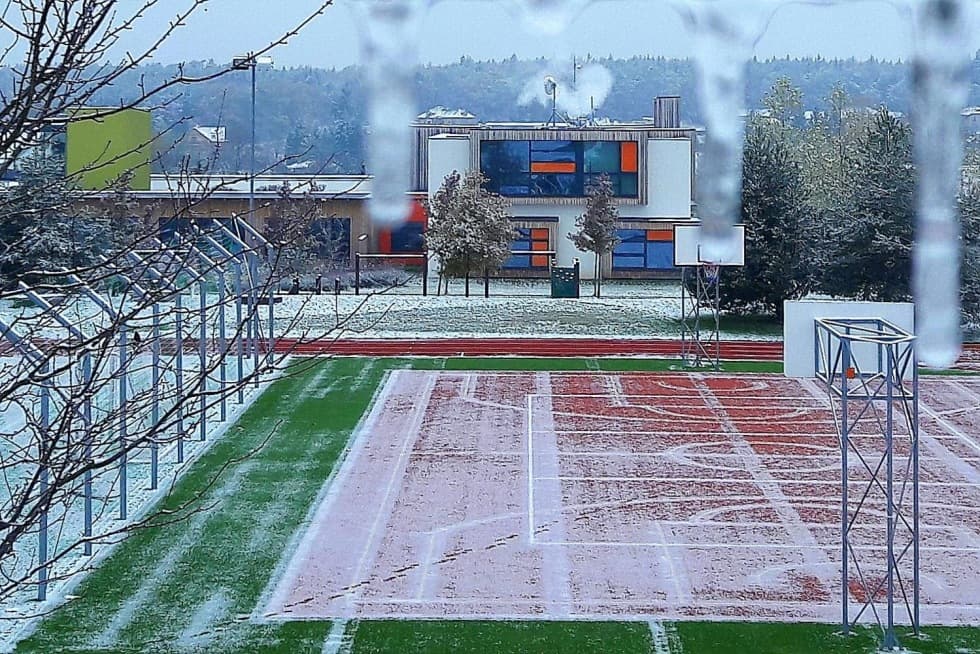 Dear Parents, Guardians, Students, Graduates and Friends of Open Gate,
We weren't an exception and winter arrived to us too. It's not freezing extremely but the snow has covered our rooftops and hasn't disappeared since. To that is connected a small, not so surprising, observation. While we adults and older students try not to slide away and walk nicely along the cleared paths, our younger ones, and especially the smallest ones, are throwing themselves into the snowdrifts regardless of footwear, and they're enjoying themselves. So let's be happy for them.
After the first semester ceremonial assembly last Wednesday in the sports hall, we had a traditional one in the school theater this week for the lower gymnasium. This time we had a guest too. Mr. Tomáš Poláček from Babic regularly follows school events and offered his knowledge and experience from the world of modern technologies and their applications. Mr. Poláček is working in a company that has broken through this dynamic market with more revolutionary technology. The assembly itself, of course, was not a presentation of their products, but mainly examples of their general use in life, care for nature, disaster relief etc. But the most important message was not this either. In the end, we both emphasized especially the motivation to study mathematics, technology and natural sciences, and the importance of engaging in this field in technological development and its applications in the future. Thank you, and to continue our success, we will repeat everything on Monday for the older students with more demanding terminology.
Last time, I overwhelmed you with a complex and fairly long statistic, so now only briefly.
Great thank you to our "Světlušky" team for their excellent work during the 15th charity event of the Czech Radio Endowment Fund. In the fall, our students succeeded in collecting a wonderful $ 8,626 in support of the blind. The OG team includes Jan Hrebík, Elizabeth Pavlovec, Alexander Fedorov, Klara Pešková, Adéla Archalousová, Julie Scholzová, and Melanie Urbanová. Thanks!
Otherwise, this week rounds of the Czech, Chemical and Biological Olympiads were held, presentations of many university programs and a number of other standard events, and especially preparation for the 10th OPEN GATE Graduation Ball, which takes place today at the National House in Prague's Vinohrady.
The Oktáva students have already been finishing the preparations, from the early morning. So, we wish them good luck; it will definitely be a great experience! With those of you who have decided to take part, we will see you in the evening, for the others we'll be glad to convey impressions and, of course, bring photographic documentation.
Until then, I wish you all a pleasant weekend!
Petr Chára
Article.
lb_footer_author()