Friday news from grammar school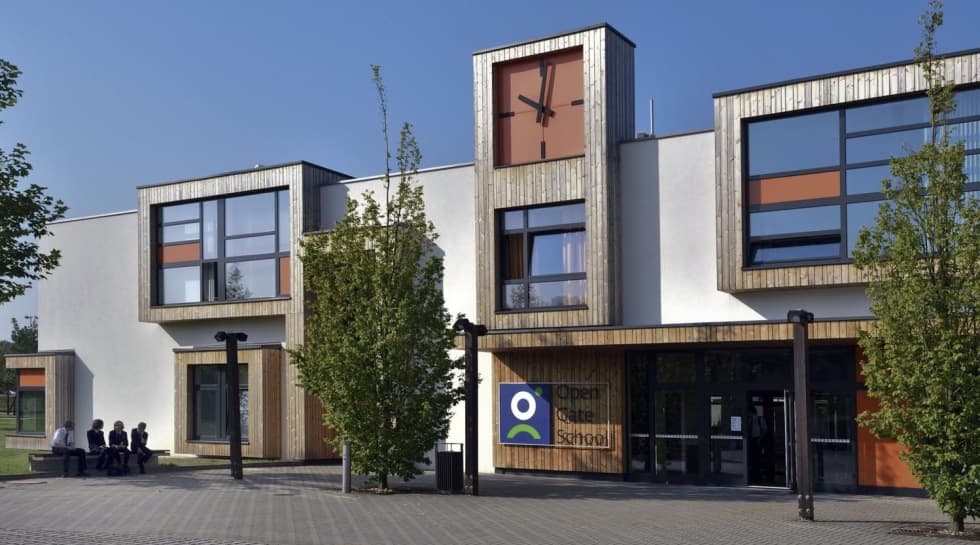 Dear Parents, Guardians, Students, Graduates, and Friends of Open Gate.
The temperatures of this week are decreasing and we will experience the last snowfall of this year during the weekend. Afterward, the pleasant spring we all love should return.
Friends, although it doesn't seem like it, it's the middle of April which marks the end of the third quarter of this school year. That means that in two and a half months this school year ends, which means that we are really in the full swing of duties and events.
Briefly again a big congratulations to our team at the First Tech Challenge in Barcelona, which brought home a beautiful sixth place finish from this international competition on Sunday. It's a great result considering the fact that we were newcomers and untouched by the knowledge of how it really works in real life. Congratulations again! Of course, you can find the news and photos on FB.
On Monday, an interesting meeting with the writer Marek Šindelka took place within another of our assemblies. A very pleasant chat, thank you for visiting!
Thirty of our students went to Prague for another performance on Monday - Romeo and Juliet, this time in English.
On Tuesday, another round of the Mathematical Competiton was held, and on Wednesday, our school was swarming with various activities; Kvinta B had a first-aid training course all day long, and another thirty students from Tercie went to Techmania in Pilsen for Biomechanics Day. Kvinta A held a portfolio defense in the framework of the social sciences project, and another round of the swimming cup was held at OG with the traditional participation of four schools. The OG team ended up second, just behind the experts in the area from Sports Gymnasium Přípotoční. Congratulations to the winners and all participants and thanks to OG organizers.
On Wednesday, this year's Maturita exams started. These consist of a common (state) and a profile (school) part. This week started with the state part, specifically with the written exams. On Wednesday there was the written paper from Czech and on Thursday from English. All 18 students of this year's Oktáva class participated. On May 2nd and 3rd they will continue with didactic tests from the above-mentioned languages. And the oral exams are waiting for them at the end of May after the International Baccalaureate exams.
On Thursday, the second Kvinta class continued with its portfolio defense and another career and university counseling session took place that afternoon, this time about some of the most prestigious educational institutions – the American Ivy League schools and Oxbridge in the UK.
Also on Wednesday and Thursday, another OG Film Festival took place with a wide variety of contemporary cinema. Thanks again to the organizers.
Today, among other things, a workshop on netolism (addiction to virtual drugs - PC games, mobile, internet etc.) has been prepared for Kvinta. Other classes will follow. In the afternoon, this year's first Duke of Edinburgh Award expeditions start and they will take place over the entire weekend. And the weekend weather will really test their resistance, so keep your fingers crossed for these groups: Mačiatka, Přesnídávky, Sněženky a Machři a Kouzelníci Trdelníci.
However, before the students and some colleagues who will be at the checkpoints leave, a quarterly pedagogical meeting will be held. Because of the Easter holiday, it's being held one week earlier this year. That is, at the same time, a reminder for you, parents. Take a look at your children's learning outcomes on Managebac. Please be sure to check, evaluate, congratulate or provide a warning if necessary.
I would also like to remind you that on April 23rd, just after the Easter holidays, this year's Run and Help will take place! Don't forget! You have certainly noticed on FB that preparations, route inspections, jerseys etc. are being prepared in full swing.
Our ambassadors from Asia are returning on Sunday, and you can still keep track of them on FB.
https://www.facebook.com/OGindia2019/
You can see that we are certainly not bored and when we add that this year's admissions are taking place at the elementary school throughout the week, and that entrance examinations for high school are held next week, you can probably imagine the chaos. But we'll manage it. So, thanks to all my colleagues and students for their hard work.
Have a good weekend and you can await the jubilee 30th letter on Wednesday (right before the Easter holidays).
Until next time,
Article.
lb_footer_author()