Friday news from grammar school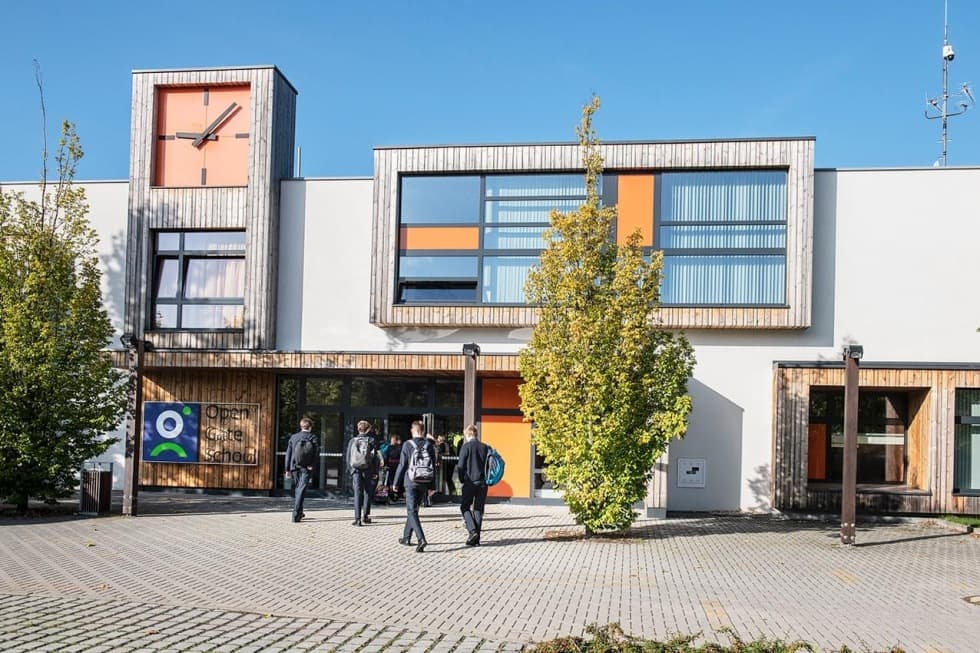 Dear parents and legal guardians,
It is a great pleasure now, at the end of the holiday, to be able to write the first of our traditional Friday reports from the Open Gate Grammar School. Since this is my first report, I should probably begin by briefly introducing myself. I know many of you personally, so some of you will already have formed an opinion about me based on a specific experience. For many more of you, I am an unknown face, so I would like to write a few words about myself.
I have been involved in the Open Gate project from the outset. I joined the project in 2005, immediately after coming back from England, where I spent two years working as a teacher and tutor at a boarding school in Stamford. Becoming involved in the creation of a similar type of school back in the Czech Republic was therefore a natural step. I have never regretted taking that step. The sheer number of new challenges that this school continuously brings has always fascinated me. I honestly never thought that I would be able to work in one place for such a long time, so I sometimes wonder how I can still look forward to every new work day, even after 15 years spent in the same building. Part of the answer probably lies in our school's constant dynamic development – over time we have gradually introduced the IB, expanded to include lower primary school years, expanded our residential houses, increased the capacity of the grammar school and made many more minor changes. Even though I am primarily a maths teacher, I have always tried to be involved in the entire running of the school, which means that I have experience from the boarding houses, primary school, hobby groups and extracurricular activities. Another important moment for me was studying for a bachelor's degree in school management, which supplemented my initial role as a maths teacher with an understanding of school life in broader contexts and was a clear enrichment for me. I have tried to apply the experience gained during these studies in practice in the field of maths, management of the Duke of Edinburgh programme and coordination of the work of class teachers, which I have recently been in charge of here at Open Gate. I have gained plenty of interesting experience thanks to the already mentioned Duke of Edinburgh programme, which I helped to introduce and establish in the Czech Republic. Within its scope, I still work as a trainer of teachers involved in the programme both at home and abroad, giving me a regular opportunity to meet interesting people working in schools around the world.
I am aware that the position of deputy head at the grammar school brings a great deal of responsibility and will certainly be a considerable challenge. On the other hand, I am convinced that I have something to offer the school in this position, and I truly hope that you will all soon be convinced as well. I must admit that I am very much looking forward to the new school year, just as I am looking forward to cooperating with you, the parents of our pupils.
I have already had a full opportunity to work together with my colleagues this week, when all Open Gate employees gathered here in Babice. It was a very demanding week, but at the same time a very pleasant one, because we also missed seeing each other at Open Gate. Perhaps even a little more than at other schools, because there really are extraordinary relationships between a number of people at Open Gate, which makes it nice to see friends again after a while. In addition, this school year we have successfully added very energetic and open teachers and tutors to our teaching staff, and watching them work together was genuinely encouraging. The core of our programme was, of course, an analysis of the past school year and preparation for the next one, but we also found time for some more informal joint activities. I have a very positive feeling from the whole of the past week. From the whole of our teaching staff, including tutors, it is clear to see how much they are looking forward to the start of the new school year, when they will be able to teach normally again. I think that, for many of us, lockdown has been a good reminder of how we enjoy meeting and teaching students under ordinary circumstances.
In preparation for the new school year, of course, we will be finalising a number of documents that we will share with you next week. Over the coming week, you will learn all information relating to the start of the school year, the selection and distribution of textbooks and uniforms, details about meals, the organisation of the school year, school buses, timetables, hobby groups and the school's measures in response to the situation around Covid. In short, we will share all the necessary information with you, just as you have always been used to.
I wish you the very best for the last few days of August,
Article.
lb_footer_author()