Photography Stories or How to Win a Smart Phone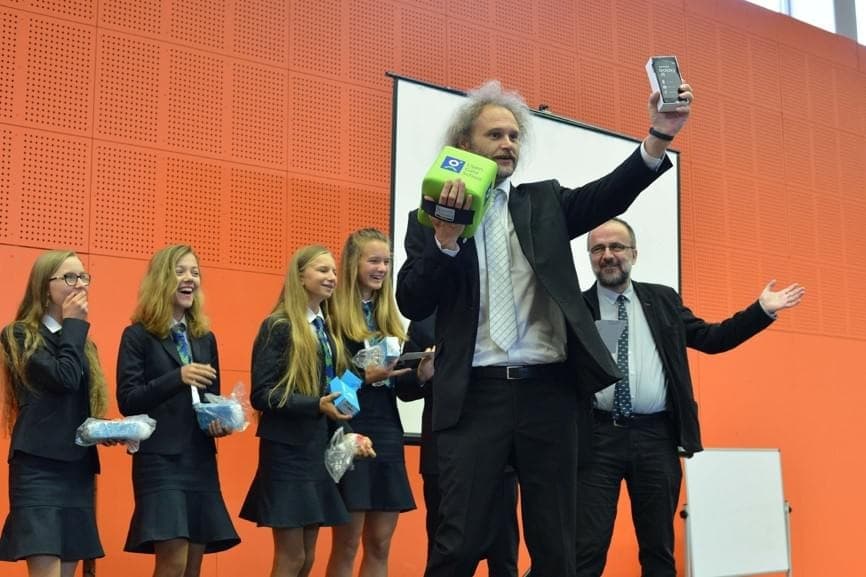 Imagine the horrible feeling when you're called to the podium in front of the whole school to receive some special gift. In confusion you're hoping that this horrible moment of everyone looking at you is soon to end. In the most inconspicuous way (which is impossible because basically everyone's eyes are locked on you) you try to get up and walk to the podium. You're standing there, waiting for what's going to happen next and suddenly you're holding a brand new Samsung Galaxy J5 along with your four other classmates (and three others have at least sunglasses and a pencil). Would you even expect something like that? I sure wouldn't. So how is it even possible that us, a few average Tercie students, managed this?
One day in the spring of 2018, we went to our Czech lesson and our teacher Mr. Šrůta out of nowhere said he had "really exciting" optional homework for us. We were going to shoot a movie. If it was a horror film of any kind, we would go for it for sure, but an interview with our grandma about her old black and white photo? At home I shared the homework task with my family and showed a real lack of interest for it and I said I'm not going to do it. That was a grave mistake my friends. Do not trust your parents. The next day my grandma called, because she knew where her album with her favorite photos was and said she was very excited and ready to get right into the interview. My "stay in bed" plans for the weekend were quickly spoiled.
We spent half of the day arguing, planning and doing other stuff about the filming. Surprisingly, something really came out of it and some parts were even funny. I wouldn't make a business of it, but I was glad that I had something and anyway it was just optional homework.
The short movie went to a festival called RE:PUBLIKA in Brno. There was a project called Příběhy fotek. It was about sharing our family stories about some personal memory from the past hundred years of our republic, and you had to add the photo to that. The festival took place from 26th May to 17th June in Výstaviště Brno. People voted for the best movies, and one of the prices was a mobile phone.
Who would have expected that our simple videos would win? Anyway, we are not complaining. On the contrary, we are still in euphoria that we really succeeded. And that is why, dear students, you should learn something from our experience and not hate optional homework. Who knows what it will bring you!
Article.
lb_footer_author()