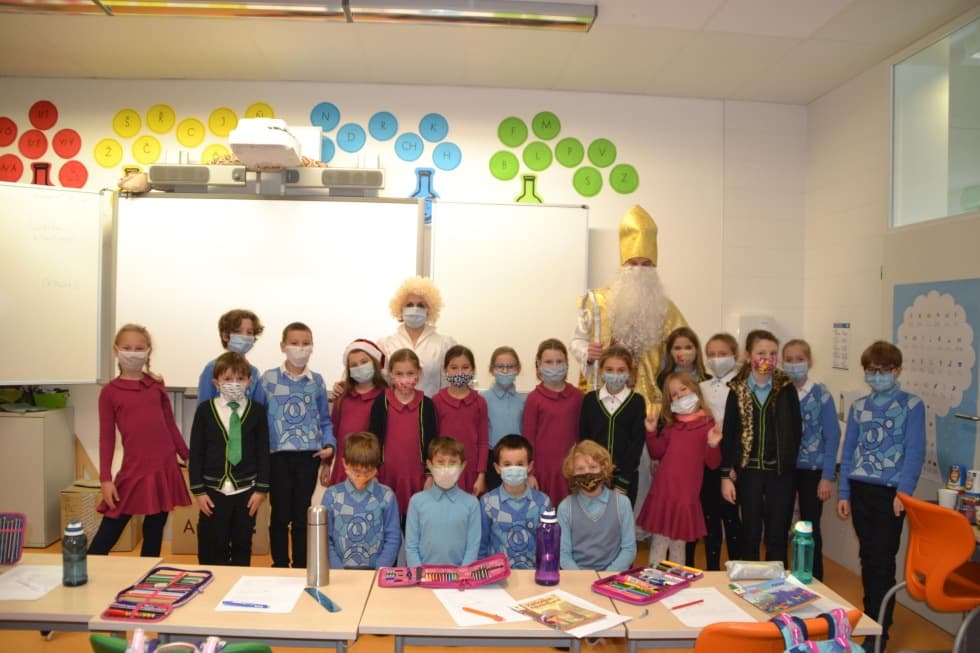 Dear parents,
I hope you are all well and healthy, and staying positive and keeping negative.
The Cambridge Dictionary describes the school as 'a place where children go to be educated.' It is of course a place of education, a place where new knowledge can be imparted onto younger minds to inform them better about a particular subject. However, I am sure we all agree a school is so much more than that.
A school is a place where friendships are formed, both for students and teachers, a place where laughter is created, where footballs are kicked around, where people are joyfully chased about, where lunchboxes and drinks bottles are left outside at break time. A school is a place of sharing and caring, a place where people are not just teachers, teaching assistants, office managers or principals, but also doctors and nurses, body-guards, zoo keepers, tour guides, musicians, actors and actresses, poets and singers, a place where the world is brought to life in all its wonder and lovingly introduced to the future generations so that they may go forth and conquer said world with all their brilliance.
During the lockdown, most of the primary school staff were teaching from Open Gate and it was strange to see a school missing what it needs the most, its students. Last week, we welcomed back classes one and two, and on Monday this week, we welcomed the return of classes three, four and five, and in doing so, we got our school back.
Of course, there are restrictions to be followed, and unfortunately, we will not be able to participate in some of the usual Christmas activities such as the primary school Christmas dinner, the wonderful annual Christmas show, or even the beautiful walk to Mukařov to see class four perform Rybovka. However, with the students back, the place feels like a school again! The sounds of laughter is reverberating around the classrooms, sounds of footsteps echo in the corridors (no running in the corridors!), bottles and lunchboxes are getting left outside, children are asking the weird and wonderful questions that only children can ask, and we are back together again!
And from talking to many of the students and staff in the primary school this week, it feels great! This is what a school should be like!
I would like to thank Eric Davis and Jana Urbanova for setting up additional after-school English lessons for students who would like to practise their English in a relaxed and fun environment. Eric and Jana have been in contact with parents who already expressed interest and the lessons will commence next week. For parents who would like to enrol their child, please contact Eric (davis@opengate.cz) and Jana (urbanova@opengate.cz). The groups are based primarily on the English level of students to ensure students get to practise English at a suitable level.
I know we are all wearing facemasks in the school, and while it can be frustrating, we appreciate the efforts all our students have made this week in their understanding of, and adherence to the current restrictions.
However, in the canteen, some of the students did notice the appearance of some super furry animals! The caterpillars that were mentioned in a recent memo sent by class teachers were on display as the male teachers from the primary school enjoyed their lunch.

As we mentioned before, the male teachers in the primary school have been growing moustaches for Movember to support our colleague, Eric Davis, and his son, Matyáš. We thank you for all the well wishes and support for Eric and Matyáš and we dearly hope to see Eric back in Open Gate at the front of a classroom as soon as possible.
As I am writing this, I am looking out on the first snowfall of the year. While some people may see it as a time to curl up on the sofa with a cup of warm cocoa and a good book or movie, it can also be a great time to get outside and enjoy the beautiful Bohemian nature, enveloped in a blanket of snow. And in doing so, you can add some more kilometres to your 10 km – 10 years challenge! Thank you to everyone who has already completed the challenge, great job!
What have the classes been up to this week?
Class 1
I spent a very enjoyable two lessons in class 1 this week where I got to properly meet the students. They are a wonderful class. We talked about the things that made us happy, our favourite foods and our favourite animals. I also found out they think I could be any age from ten to sixty five! (Luke)
Class 1 welcomed the beginning of Advent with excitement. Together, they made an advent wreath and they enjoy morning oasis with beautiful stories. Every day an angel brings them a small gift. However, they haven't forgotten to study as well! On Tuesday, they tried out the stairs environment, where they applied their experience with the steps method. On Thursday, the long-awaited white horse finally arrived and the yard was covered with snow. The children had a lot of fun at that yard. They also learned a poem for St. Nicholas, so let's hope the "čert" doesn't take them away this Saturday. (Terka Č)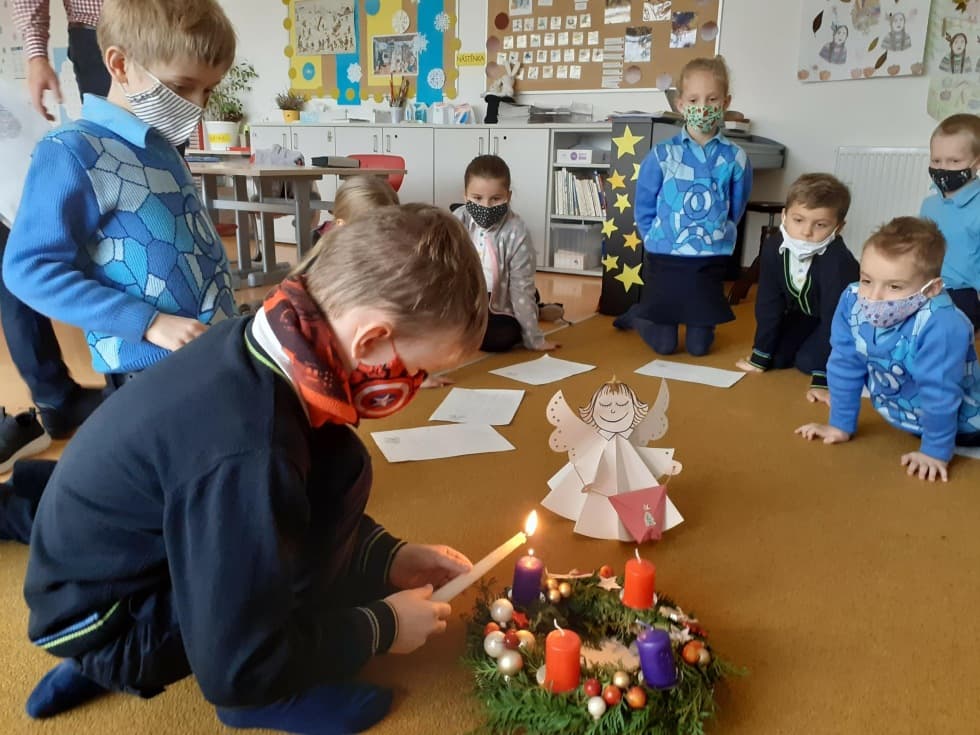 Class 2
In Class 2 we also welcomed each other on Monday with a special Advent Morning Oasis. We lit the first candle on the wreath we made together and explained the meaning of the word. But awaiting the arrival of Christmas hasn't stopped us from our journey around the world. This week, we visited the English-speaking European countries – the UK and Ireland. Sašenka and Jerry were our globetrotters' guides and they all deserve another stamp in our passport. We still remain in Europe, but it's up to you to decide which countries we'll visit. I'm excited.
Class 2 have finished their revision test from Czech and Math. I can proudly say they did a great job in both subjects. We will improve a few details and practice some grammar features and math environments and then we'll all be happy. This week, we started learning about the multiplication table, which the children were very excited about. I'm curious to see how long that excitement is going to last. In Czech, we have started dividing consonants into soft and hard ones and we're getting ready for correct grammar with i and y. I believe we'll handle it with no problems.
On Thursday, we woke up here at Open Gate into a frosty white day. St Martin came a little bit later, but we don't mind at all. Let's hope the snow will last at least for a while. The globetrotters were inspecting snowflakes and they really enjoyed frolicking in the snow.
On Friday we were visited by Nicholas along with a beautiful angel. We're happy the "čert" didn't come, because the classroom was full of them! Thank you for the treats. ????
For all the globetrotters, Saša D.
Second graders stuck to their theme of travelling and set their sights to Great Britain this week. Sasa Mikova prepared a wonderful arts project, where we created various 'English' things. From sandwiches to double-decker buses, all can be seen hanging in the hallway by our classroom. In speaking class, we then prepared survey questions about Great Britain and proceeded to survey our classmates, clipboard and pen in hand. We also read and did an activities worksheet about autumn, the only season with two names. (Jerry)
Class 3
In class 3 this week, aside from our usual phonics fun, we also did some speaking and talked about what we missed about being in school. We also made some lovely 3D Christmas wreathes, which I am sure are now hanging beautifully on doors all around! (Luke)
Class 3 are on board! And in good spirit – spirit of Advent, of Christmas, of studying! Since Monday morning the pens, pencils and crayons haven't stopped. We barely had time to unpack our bags when we were picking their contents again. Badík just keeps watching, but, believe it or not, he has learned to read and write! He had a great teacher, that's true, Martin managed it in a single day. Well done! Like every year, Class 3 made a wreath to light the first candle on, they do math, explore, draw, write, create… But most of all, they enjoy being together and not separated by screens. Badík has already packed his suitcase and is excited for the weekend trip. But until then, there's still a lot of ahead of him – a piece of cake, art class, math and learning new specified words. Let's hope Class 3 will help him with all of these. (Marie)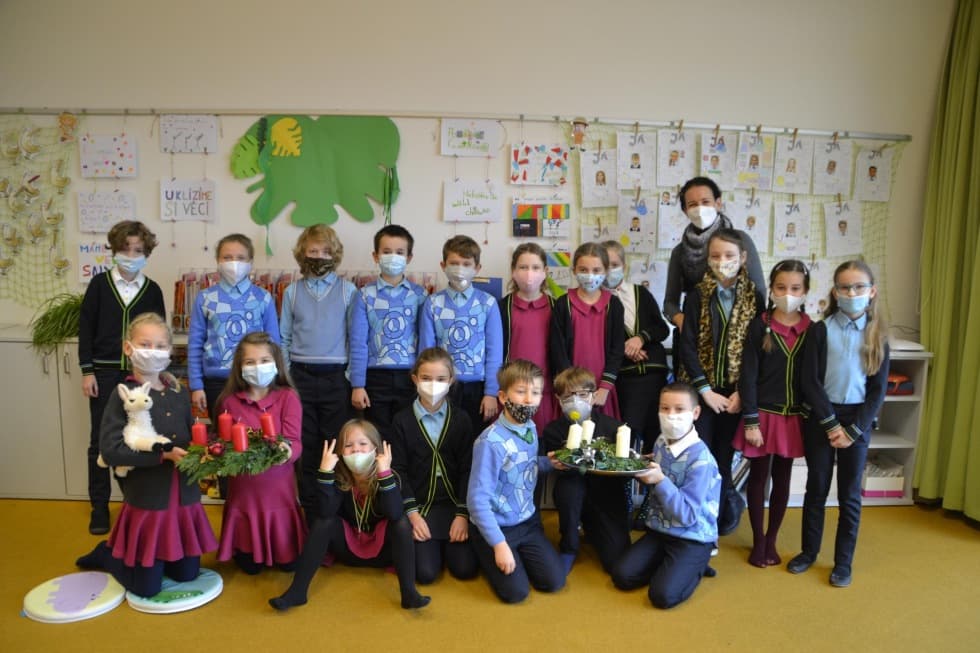 Class 4
Class 4 and approaching Christmas
Just like all the Open Gate children, Class 4 were also excited to come back to school; it would be naïve to think that mostly for the studying. :D It's fascinating to see the whole team playing together, chatting away, discussing Christmas and overall I believe they realize how great it is to be at our school and this good mood has p.ositive effects on us, as well as our school results. We're happy to have each other! Terezka, Monča and all of Class 4
Grammar, grammar, and more grammar. This week we spent a good deal of our lessons in review for our upcoming test next week on the first 3 units of Incredible English. We also found time on Monday to look back at the Holiday of Thanksgiving. We drew pictures of the things we are most thankful for and presented them in class. In morning Oasis, we took on a crossword puzzle with British Christmas vocabulary. Minced pie anyone? (Jerry)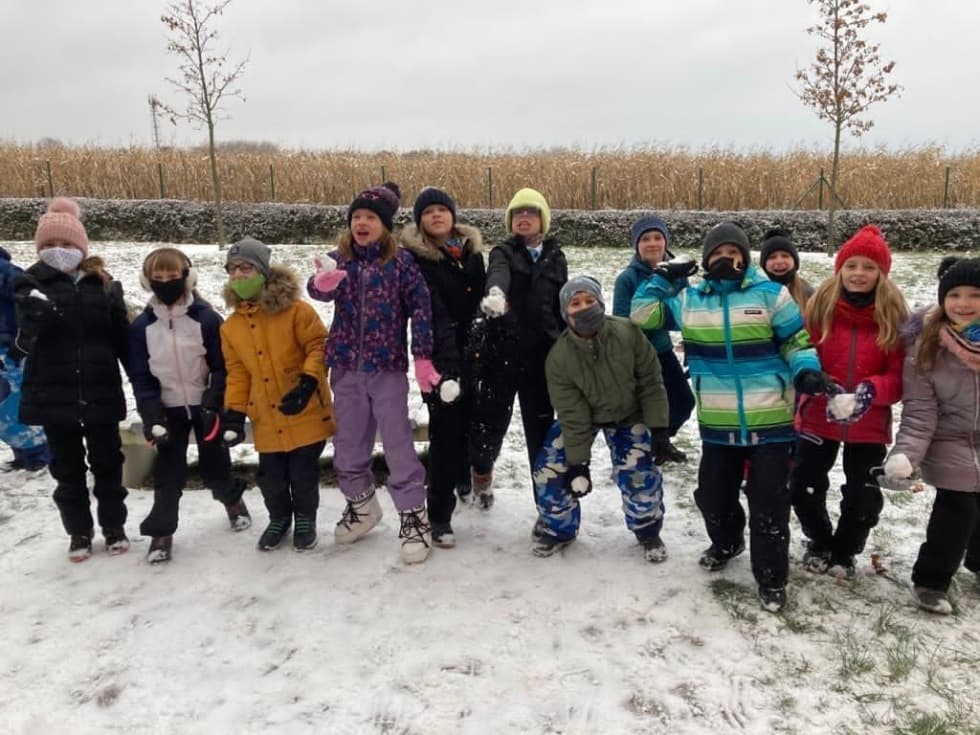 Class 5
In class 5 this week, we did some great PET writing. I know writing can be a difficult exercise but class 5 did a great job with it. We also made some Christmas wreathes during art and culture and I was hugely impressed by the artistic efforts of the class! (Luke)
On Monday, Class 5 started their Morning Oasis by making the class wreath and they started to read the book called Christmas Stories for the Joy of the Soul. We were also reminded of St Barbora's Day and St Nicholas Day, who even came of a visit on Friday.
Because it's been a while since they have worked on a joined project, the children started working on a week's project in pairs – posters about the regions of Czech Republic. (Standa).
Reunited and it feels so good! After a long sojourn at home, we are back at school and learning about the Czech Republic in English! We are preparing presentations about the different regions in the Czech Republic. Jerry is excited to learn more about our country! (Jerry)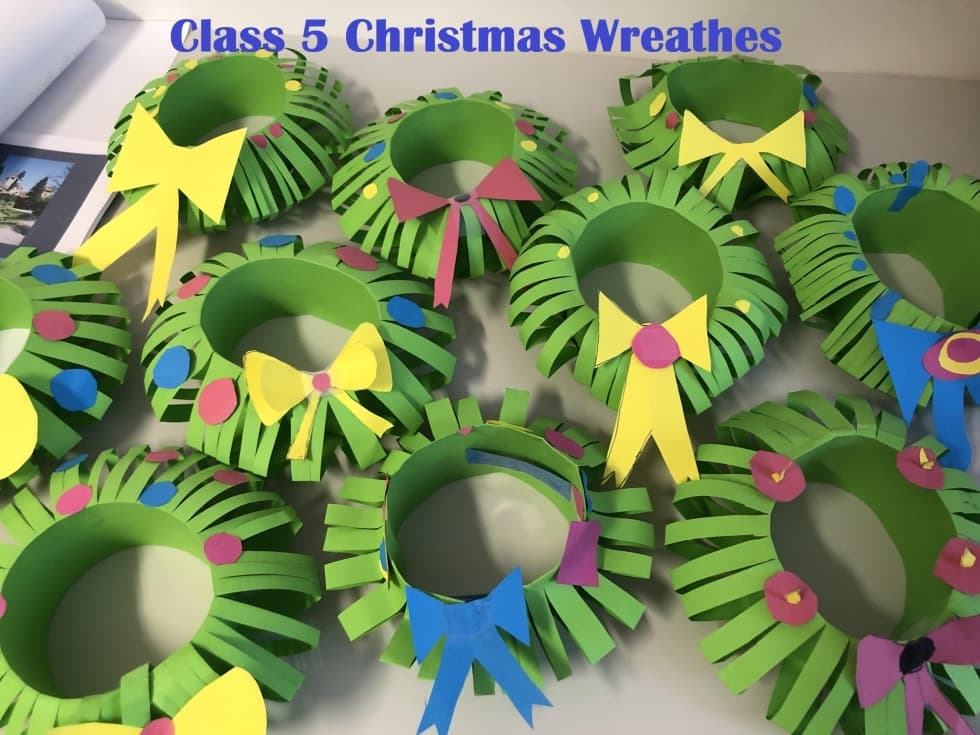 And so it has been a fun and interesting first full week back in the primary school. We are looking forward to next week as we enjoy being back in school and prepare for Christmas. But not before we have a pleasant and relaxing weekend!
I hope you all enjoy the weekend and keep healthy!
Kind regards,
Article.
lb_footer_author()