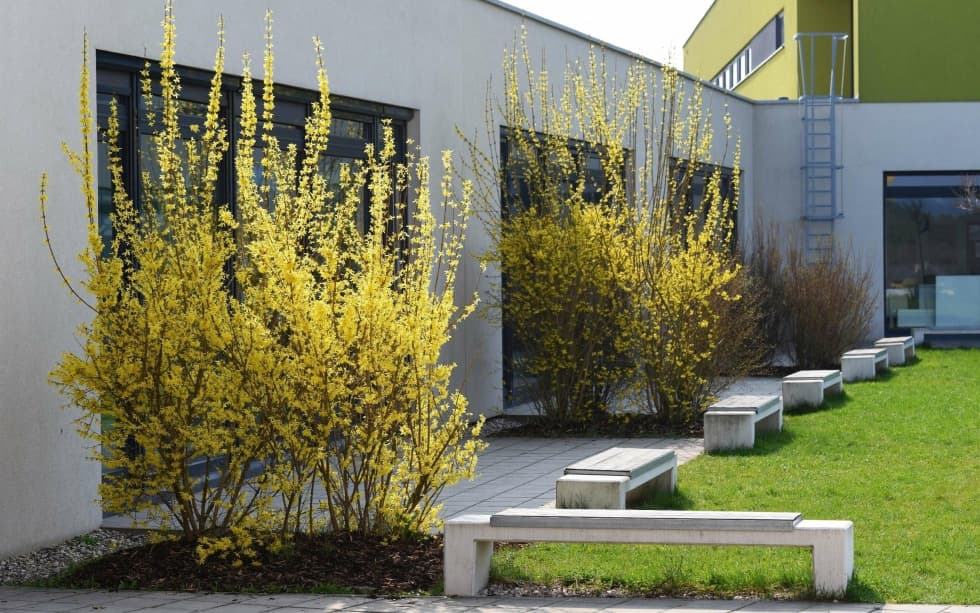 "Earth Day is an annual global event organized on April 22 and aimed at promoting and supporting environmental protection. Earth Day was first celebrated in 1970, and is currently held annually in more than 193 countries around the world and is coordinated by the Earth Day Network. "
So much for saying a brief description found on Wikipedia. That is why the second week in our school took place in the same spirit and this event resonated in all classes. Children from the youngest to the oldest focused on ecology to support the fight against the pollution of the planet. The goal of each project was one thing: to realize that each of us has many opportunities to help future generations grow up in a global pollution-free environment. Although the struggle to protect the environment may seem like a struggle with windmills, planet Earth will surely be happier due to everything the Open Gate children have done for it. For example, memories of this week will help children realize how to treat our mother properly and how little it takes to do something beneficial.
For the entire Open Gate team,
Tereza Kasalová
Class 1
What a wonderful week we had! We started out the week by reviewing parts of the body and created life size posters to help us remember our new words. We celebrated Earth Day and learned all about sorting our waste. We even went on a litter search to help keep our school nice and clean. It was so nice to see our friends again at school and I know that we are all looking forward to next week. (CJ)
The first-graders really enjoyed returning to school and they also managed the mandatory examinations. On Tuesday, we experienced emotions in the mirror hall, and we even danced. In the afternoon, we used a napkin technique to decorate spring trays for goodies. On Wednesday we visited the library and on Thursday we visited an old kingdom flooded with rubbish. We closed the week by reading about the cat Modrooček. (TC)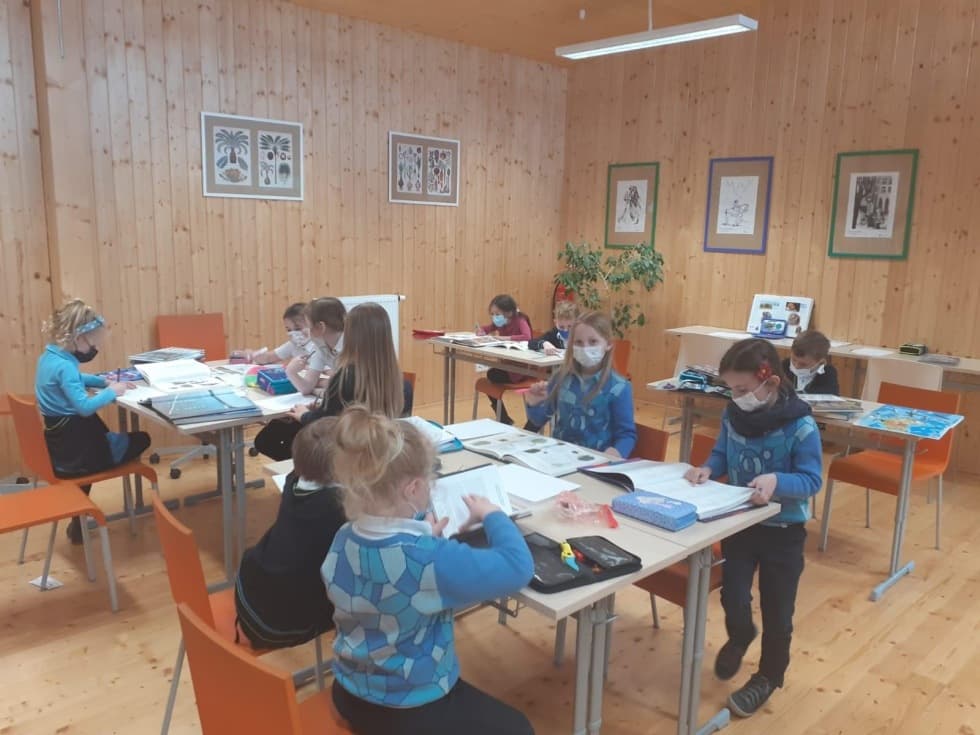 Class 2
We were back online this week but that did not stop us from having a little bit of fun! We started the week off by learning about the 3 R's ( Reduce, Reuse and Recycle). Next, we learned about water usage and brainstormed different ways we could reduce our water use. Finally, we read all about how we can help our environment through our class reading. (CJ)
It was a joy for me to teach Class 2 again, even if it was from behind the computer monitor. We really enjoyed talking about Earth Day, ways to save energy and how to use less water. In our consultation hour we made some wonderful posters showing what we can do to protect Mother Earth. It was an eventful week in our pajamas, but I'm sure they are ready to be back in their uniforms at school next week. (ED)
This week the Globetrotters traveled on their own axis again, sharing their experiences only through monitors and tablets, but they still managed a lot and enjoyed it. We heard some interesting mini-presentations about the origin of first names. We solved logical tasks with matches or firewood, and of course we celebrated Earth Day. But we are really looking forward to school because it's still the BEST among friends!
Saša, Sašenka and the Sophomores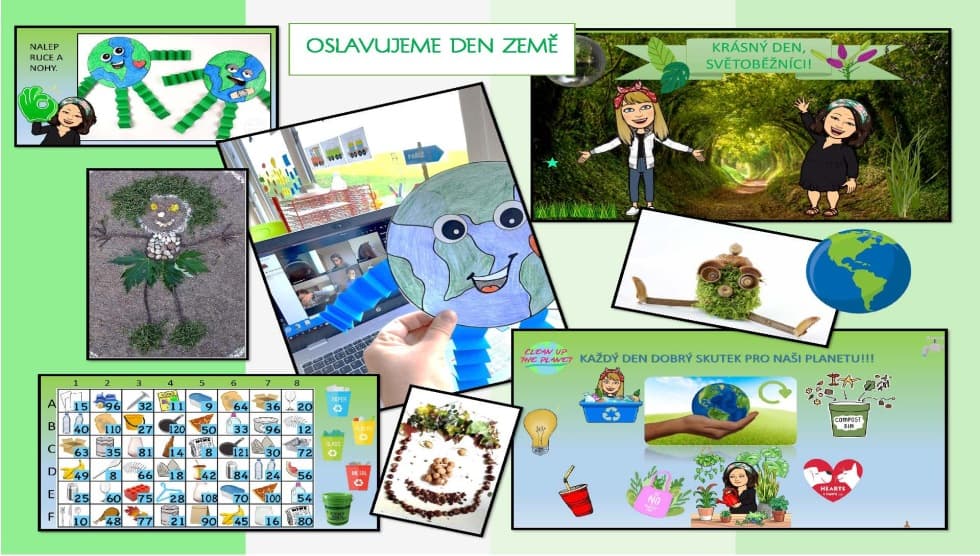 Class 3
Class 3 had great fun this week discovering weird sports such as cheese roll or extreme ironing. We then invented our own new sports, taught them to our classmates, and we even got to go outside to try our new sports. Wanna play some Chubby Wubby? or perhaps a game of shoe toss? We ended the week with a spelling test and a game where we tried to guess the sport only with sound clues. We continued to do work in Incredible English, speaking about sports, phonics, and World Around Us.
In class 3, we finalised our articles for the upcoming first edition of the school newsletter. We wrote two articles about how we found learning during lockdown. One article is about our real experiences and how we felt about it. In the other article, we took a more cheeky, funny look at the whole experience. We are sure you will enjoy reading it very soon! (LR)
The Researchers were busy again this week. In addition to learning, we also had a lot of fun and learned many interesting things about the human body - we will get to know it even more in the coming weeks. Together with our planet, we celebrated Earth Day and had the opportunity to chat with an interesting guest. We enjoy our stay in the classroom and outside it to the fullest, the weather is beautiful - so we try to be in the fresh air a lot.
Badík, Third-graders, Marie, Andrejka and Martin.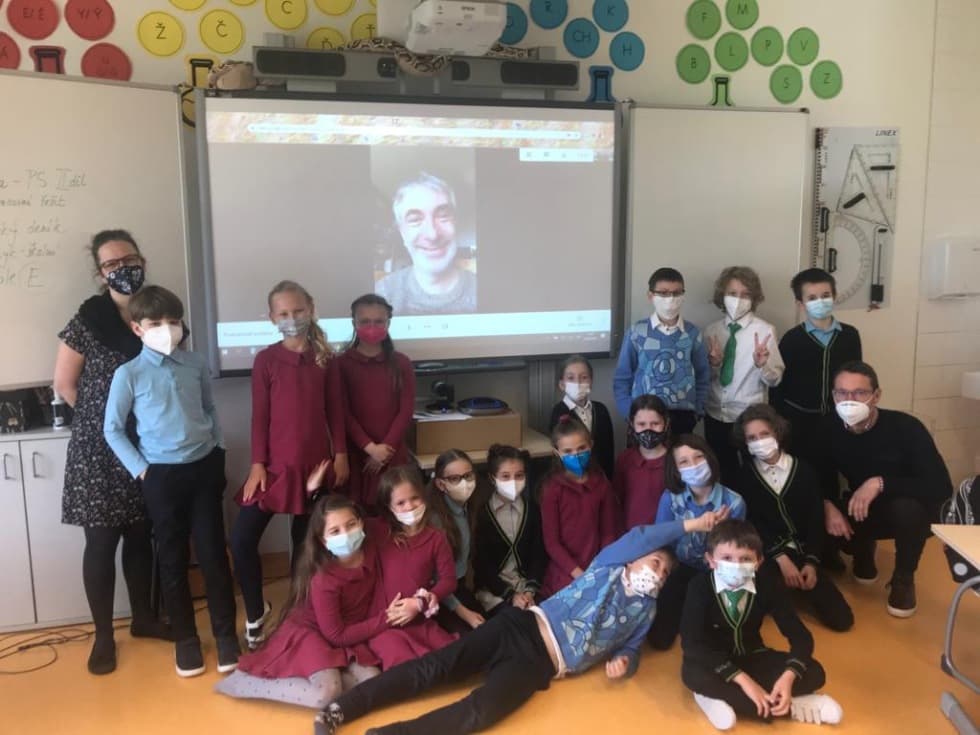 Class 4
This week's highlight was our interview on Wednesday with the principal of Open Gate, Petr Šlemenda. We thoroughly prepared for our interview with brainstorming sessions, question formation exercises, and mock interviews. The result was a very pleasant and interesting Q/A where we learned a lot and got a chance to get to know our principal a bit more. In Incredible English we tackled the usage and meanings of the words any and some. We finished the week with a review of homophones in phonics class. (JD)
In class 4, after our PET (Preliminary English Test) writing workshop, we did our first PET writing, an email to a teacher about joining a cooking through English class. I was very impressed with the quality of their writing, they did a fantastic job! On Friday, as a reward for their excellent work, we started learning how to play baseball/softball. (LR)
Fourth-Graders and Earth Day in Activity Centers
After a week at school, the quarters looked around and immediately tried working at Earth Day-focused activity centers. The studio, mathematics, Czech language and reading were waiting for them. For example, they focused on wind turbines and the production of pinwheels, where it was shown how patient the students are, they read about the water waste whirlpool, which is unfortunately created due to sea pollution, and they learned many interesting things about sorting by Tonda Obala. We decided that we had to take care of our Earth and that everyone could do it.
Terezka, Monča and the Fourth-Graders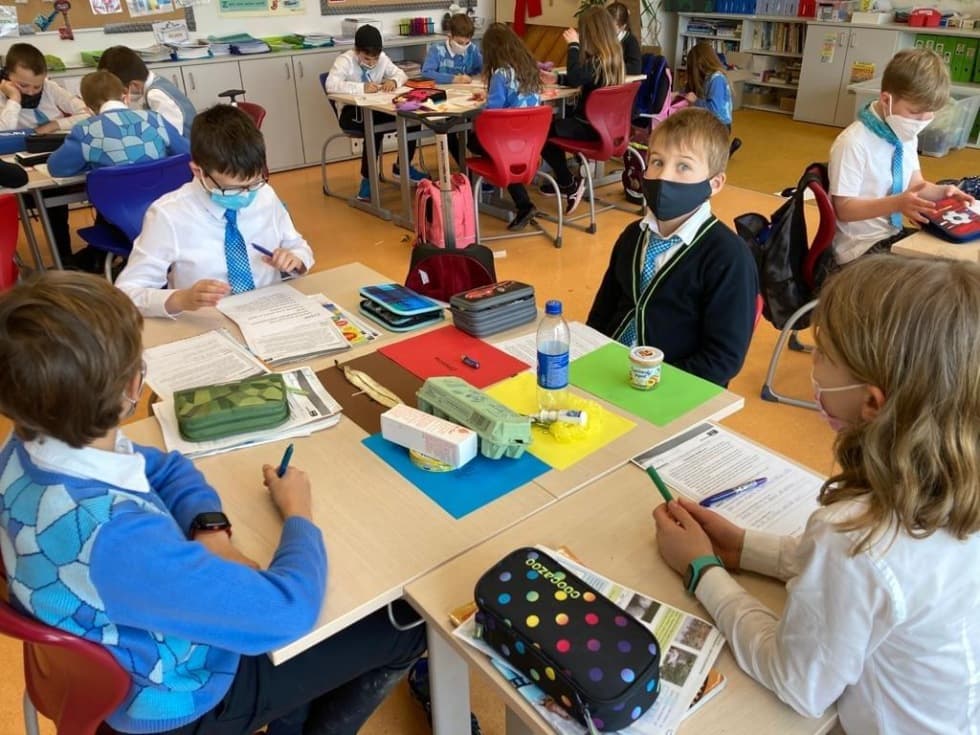 Class 5
In class 5 this week, we did some great preparation for PET and also talked about the different sports and leisure activities we have done. We started learning how to play baseball/softball and we unleashed our inner rock stars as we continued our music composition and production project. Look forward to some wonderful tunes soon! (LR)
On Thursday, April 22, we commemorated Earth Day together with our friends and dedicated one whole day to the topic of ecology. We viewed a short film of the One World in Schools project called How I See It: Amia. Subsequently, we discussed the issues that the film raised in us. In addition, we recalled the principles of waste sorting, and how we can only minimally contribute to the protection of our planet. In mathematics, we collected various data in pairs, from which we then created graphs in a computer room. We focused our artistic activity on spring nature and each of the fifth-graders painted a flower with dry pastels, which we can see in early spring. (SČ)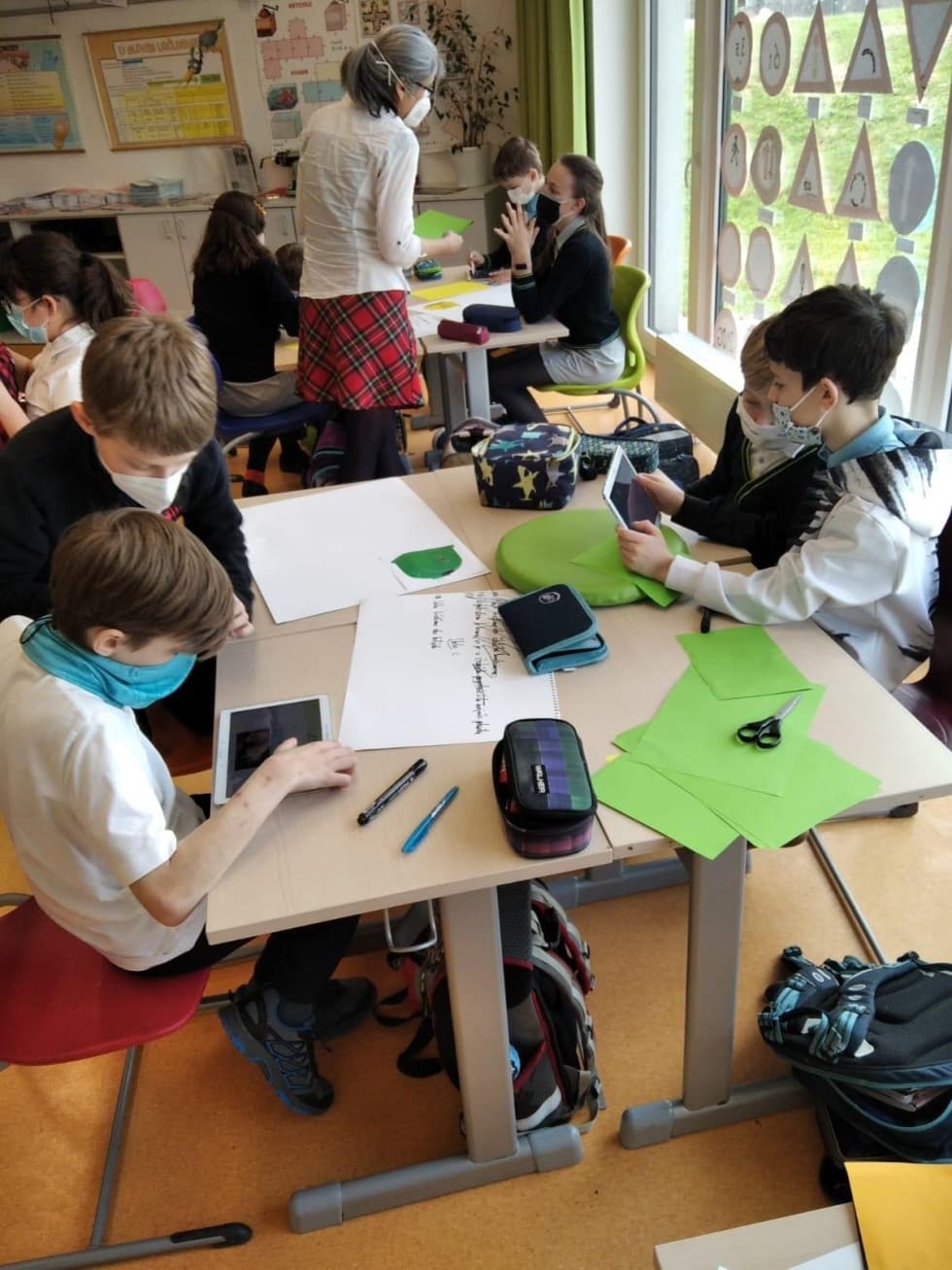 Article.
lb_footer_author()