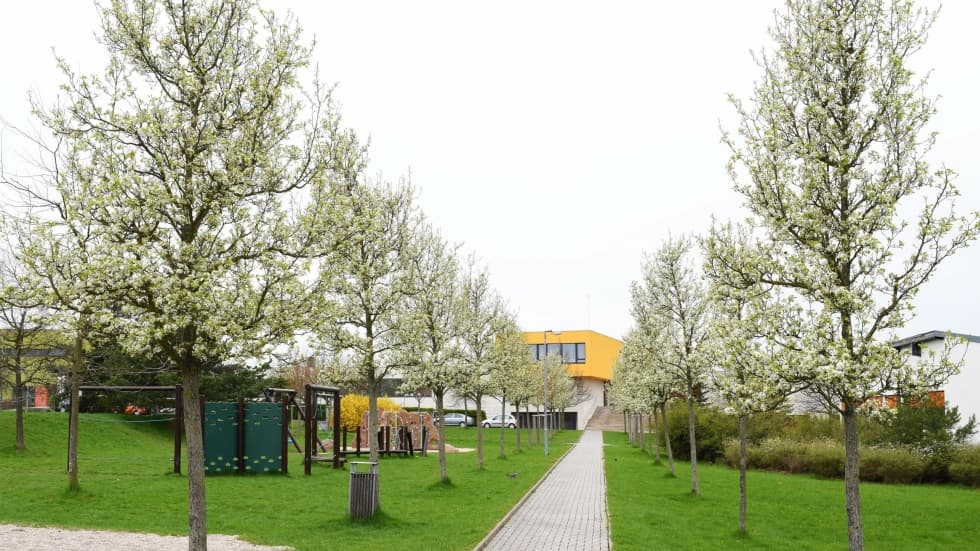 Dear parents, legal guardians, we apologize.
This greeting is addressed especially to our dear friends, because…
"Where something ends, something begins, that's how it is, that's how it's supposed to be". Lálalá lálalálá and so maybe it's here! Emotion and nostalgia knocked on the door of the meeting room, and if it weren't for the fourth-graders, even the dust would have sat with silent remorse on all those wonderful collections of mathematical candies, on the treats of the word games of our beautiful language. I guess I know how a hen feels when her chickens grow up and scratch to dig earthworms in another corner of the yard.
No, the school year is not over yet, not even the crazy situation around the "coronation" is coming to an end, neither the after-school care nor the school canteen is ending,… in fact, only the fifth year's Mordor is over for them. Yet we are nostalgic because our next round of fifth-graders are approaching the end. One rolls with the punches, but is still not ready for the hit - even within their hometown ring.
The fifth-graders have had their first big test and the biggest one awaits them - to grapple with success and disappointment, to capitalize on the learning experience gained and to transform it into a strength of personality and the opportunity to grow humanly - otherwise the fifth-graders (like all other children) physically have grown more than weexpected or would like to see! However, we will not let them grow over our heads! Puberty is already sticking out the corners, but they have no chance in terms of weight.
The other classes are still absorbing their experiences and knowledge, they enjoy being together, I assume that you, the parents, enjoy that they are also angry somewhere other than at home…
Three-tiered consultations started this week and we have a unique opportunity to meet and evaluate the next quarter at our - your school.
Your team ZŠ Open Gate
And what happened in the individual classes ???
Class 1
The freshmen enjoyed magic, burning witches and toasting burritos this week. They also visited the library, where they tried out the magic earphone of Macha and Šebestová. They already know exactly who wrote and illustrated them and they will not be confused. In addition, together with pupils 3.B, they researched and searched for differences between human and canine bodies. (TČ)
What a week Class 1 had! We learned a new clapping activity and learned how to clap in 2's and 4's! We also got our very first Oxford Reading Tree books to read at home to our families. We also enjoyed a wonderful evening of fun by a bonfire and finished the week off by making moving eye pictures of our very own faces. (CJ)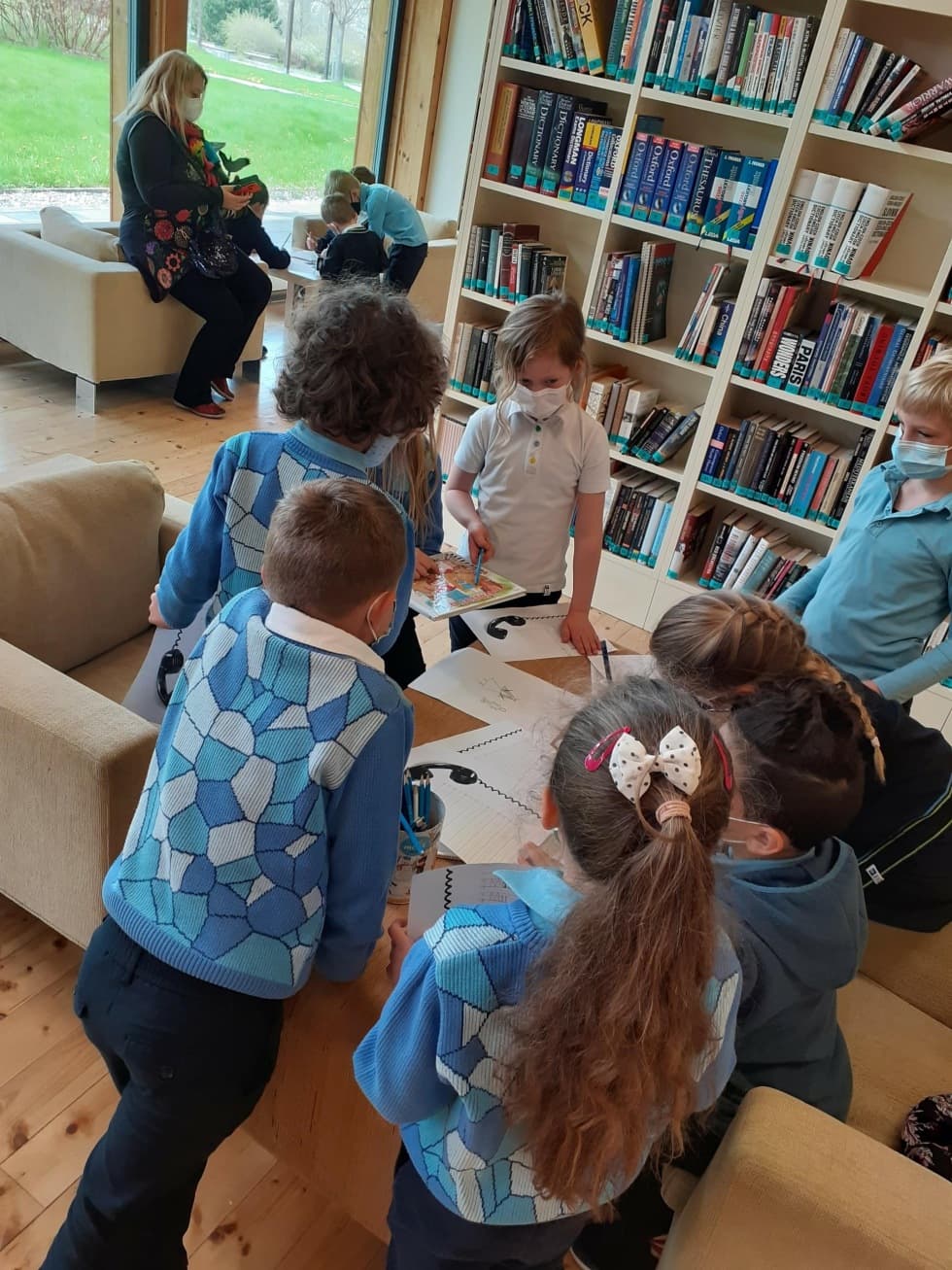 Class 2
Globetroters have another week full of experiences behind them. On their way to Africa, they repeated everything they know about the human body in activity centers. On Thursday, they took part in a professional council organized for them by our Class 3 Researchers. We are happy to work with them even if it's through online tools, and we look forward to handing them more letters. We had a wonderful time enjoying the burning of witches, the warrior in the OG complex and the delicious burritos, which we roasted on the fire. Second-Graders, Saša and Sašenka ????.
This week was all about preparations for our bonfire night. We started off the week making effigies of witches out of hay and creating our very own witches riding on broomsticks. We started our human body centers and learned all about our 5 senses through interactive activities on some tablets. We closed out the week with a wonderful assembly reviewing all of our activities during Eco month. (CJ)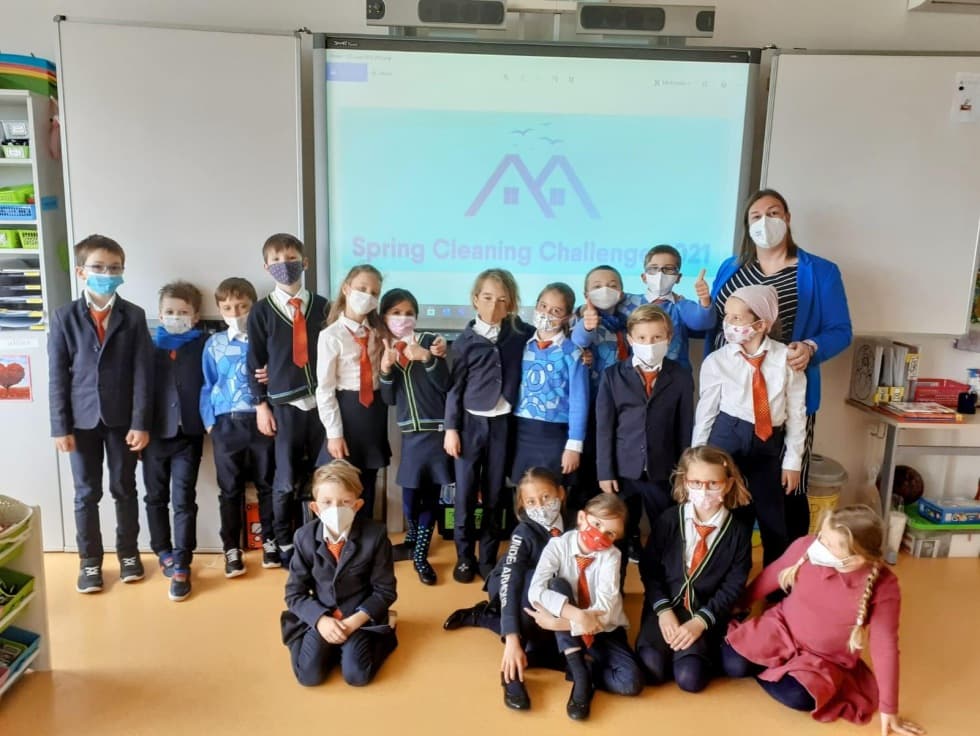 Class 3
After returning from distance learning, the researchers quickly re-acclimatized and the class was really full. Right on Monday we enjoyed magic school - the best experience was the production of slime. Until Thursday, the third-graders spent every free moment in group work because on Thursday the First Oujija Medical Consilium was waiting for them, during which they presented the individual systems of the human body :-D The storm was a pleasant culmination of the whole event and we enjoyed our stay in the fresh air. During Friday's assembly, we summarized other parts of the 10 years of the elementary school project and chatted with an interesting guest. On Sunday, we celebrate the most important women in our lives - our mothers. Dear mothers, we wish you a lot of smiles and joy through all the days of your lives. -Badatelé, Marie, Andrea and Martin.
Class 3 started out the week reviewing various household chores and playing a miming game pitting the girls against the boys. The girls came out victorious. Go girl power! In World Around Us, we took a look at how photos can be altered, and how we can't always trust what we see on the internet. Students were given two photos per group to discuss and decide which one is real and which one is fake. They then presented their ideas to the class before having the correct answers revealed to them by Jerry. Lastly, Class 3 finished Unit 7 in Incredible English this week. (JD)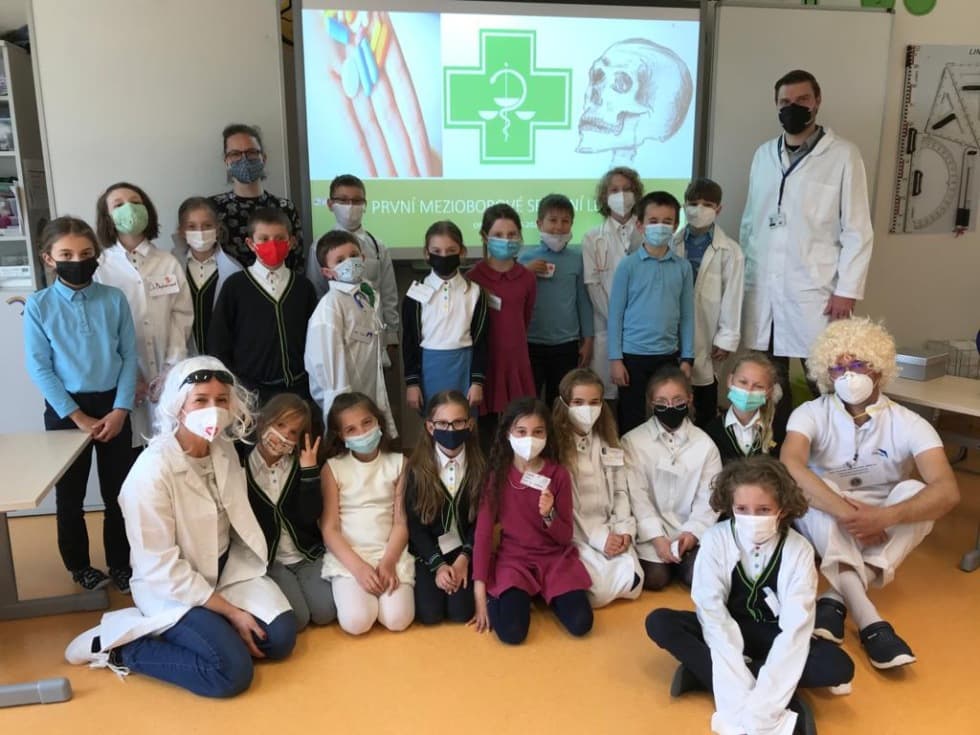 Class 4
The fourth grade was accompanied by strength in the online realm
May the 4th be with you! (official Star Wars holiday) Everyone who loves Star Wars celebrated this holiday on 4.5! The fourth-graders also celebrated this phenomenon, and with the characters of this cult series, we counted on word tasks and learned many interesting things. The fourth-graders were ready with lego characters, spaceships and even someone in Darth Vader's disguise! –Fourth-Graders, Terezka and Monča
The fourth-graders joined Mr. E as the lone wolves in the World Wide Web English realm. After three weeks back to school in the flesh, a week at home in the virtual world didn't bode too well. But they battled all week to keep their spirits up and power through some good work, knowing what awaits them on Monday. They enjoyed reminiscing about the past 10 years of their lives, looking at pictures and discussing their abilities. They discussed the parts of a plant, detailing what each part does and why it's important. They also took a virtual tour of the National Parks system in America, learning about several parks and taking a quiz about what they know. A fun week was had, but they'll be ready to burst through the OG doors come Monday morning. Enjoy the weekend and Happy Mother's Day to all you plain-clothed superheroes out there! (ED)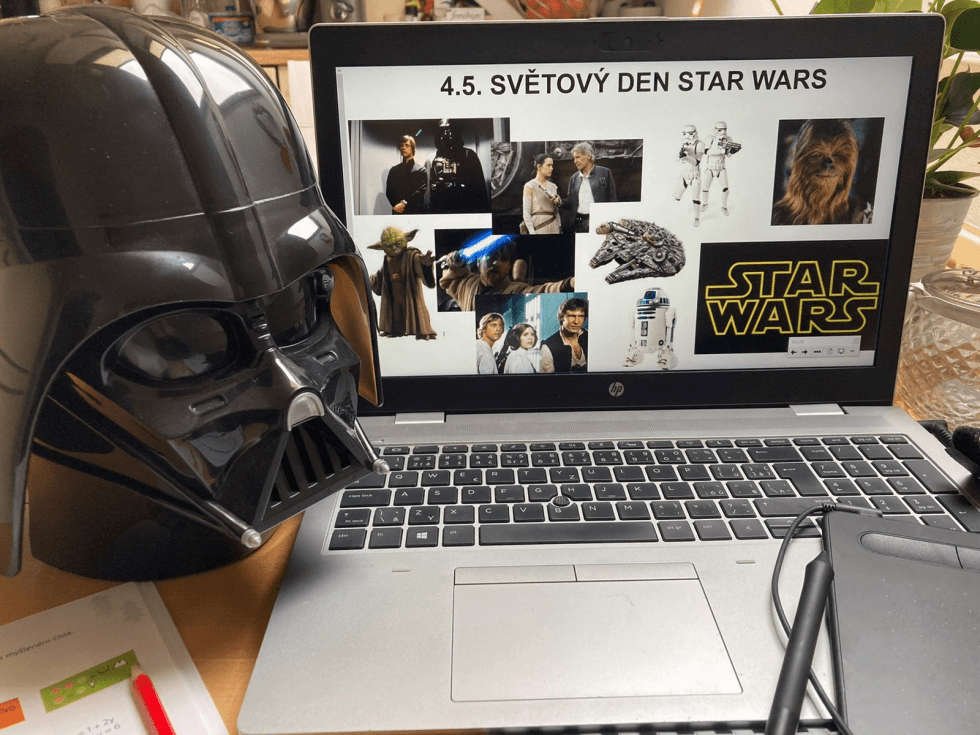 Class 5
Many of the fifth students have had the most difficult challenge in their studies so far this week, namely the standard entrance exams. Therefore, together we planned mainly relaxing and less demanding activities and tuned up for the D-days. There was also a meeting with a psychologist who gave the children tips on how to relieve excessive stress. Gender unbalanced football sword Ladies + Standa vs. Gentlemen managed to score 2: 2. Let's hope that the entrance exams will end with a great result. Fingers crossed! (SČ)
Class 5 had a busy week with preparation for, and sitting their high school entrance exams, so on Tuesday we distressed by continuing with our GarageBand music projects. The different groups are producing a wide variety of music styles from hard rock to hip-hop to drum n' bass to chill out, but one thing they all have in common is how accomplished they have made their sound in such a short period of time! Class 5 also put some of the other classes, and the staff to work this week, as classes 1, 2 and 4, and all the staff filled in questionnaires to help class 5 with their Statistics and Probability projects. Statistically speaking, class 5 have done an excellent job! (LR)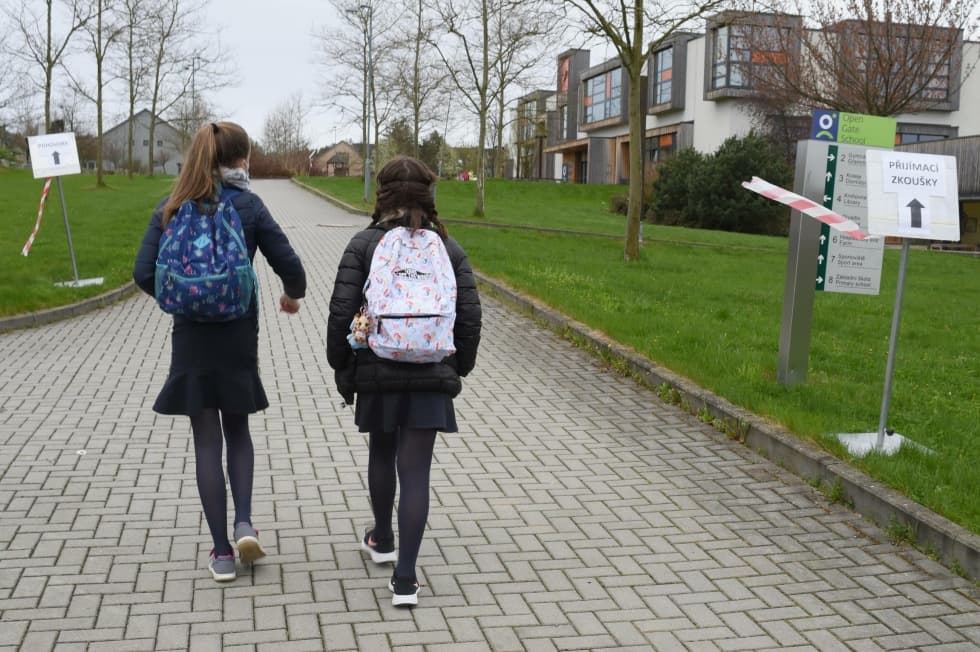 Article.
lb_footer_author()