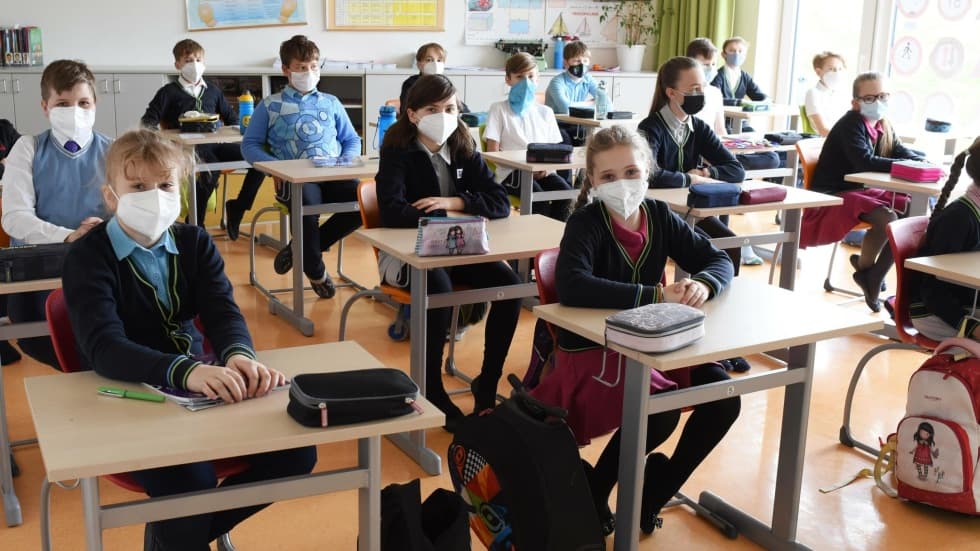 Dear Parents, Legal Guardians and Friends of the School,
I hope you are all well and have been enjoying the recent Irish weather! It is great to have all five classes back this week. I am sure there are not many people who miss the sound of a Microsoft Teams call ringing out from their computer this week. It is good to write this week's Friday letter because it has been an interesting week in terms of English class projects and I am very happy to tell you about them.
Class 4 and Eric completed a project called A Year in the Life – 10 Years in the Making. The project is part of our 10 Year Anniversary celebration and it charts some of the class 4 students' development over the last 10 years, since they and the primary school came into being! It is currently on display outside their classroom so please come a check it out!
Primary School Newsletter FIRST EDITION!
As I am sure some of you know the classes have been preparing content during the last few months for our very first Primary School Newsletter! The brainchild of Jerry Dvorak, our first newsletter contains content from all the primary school classes. It also presents a celebration of our 10 Year Anniversary. I could write all day about it, but our students have done a wonderful job in writing for it, so let me just say a huge thank you to all the students who helped make this possible, we are so proud of you! A digital copy of the newsletter is attached, so put the kettle on, make a cup of tea and sit back, relax and enjoy!
This Week in Class:
Class 1
This week Class 1 learned all about what makes each of us unique! We read Elmer the Elephant and spoke about accepting difference and diversity. We even had time to make our own unique patchwork elephants. We continued learning about different farm animals inour Incredible English books and practiced using I like… and I don't like… in our speaking. (CJ)
The first-graders met Rákosníček this week. They talked a lot about how someone else can be, if each of us is different and if it's good. They touched on challenging topics such as living with a disability, adoption, xenophobia and managed it perfectly. In addition, they did a great deal of work on their closing presentations. They are already looking forward to the next week as they continue to work. (TČ)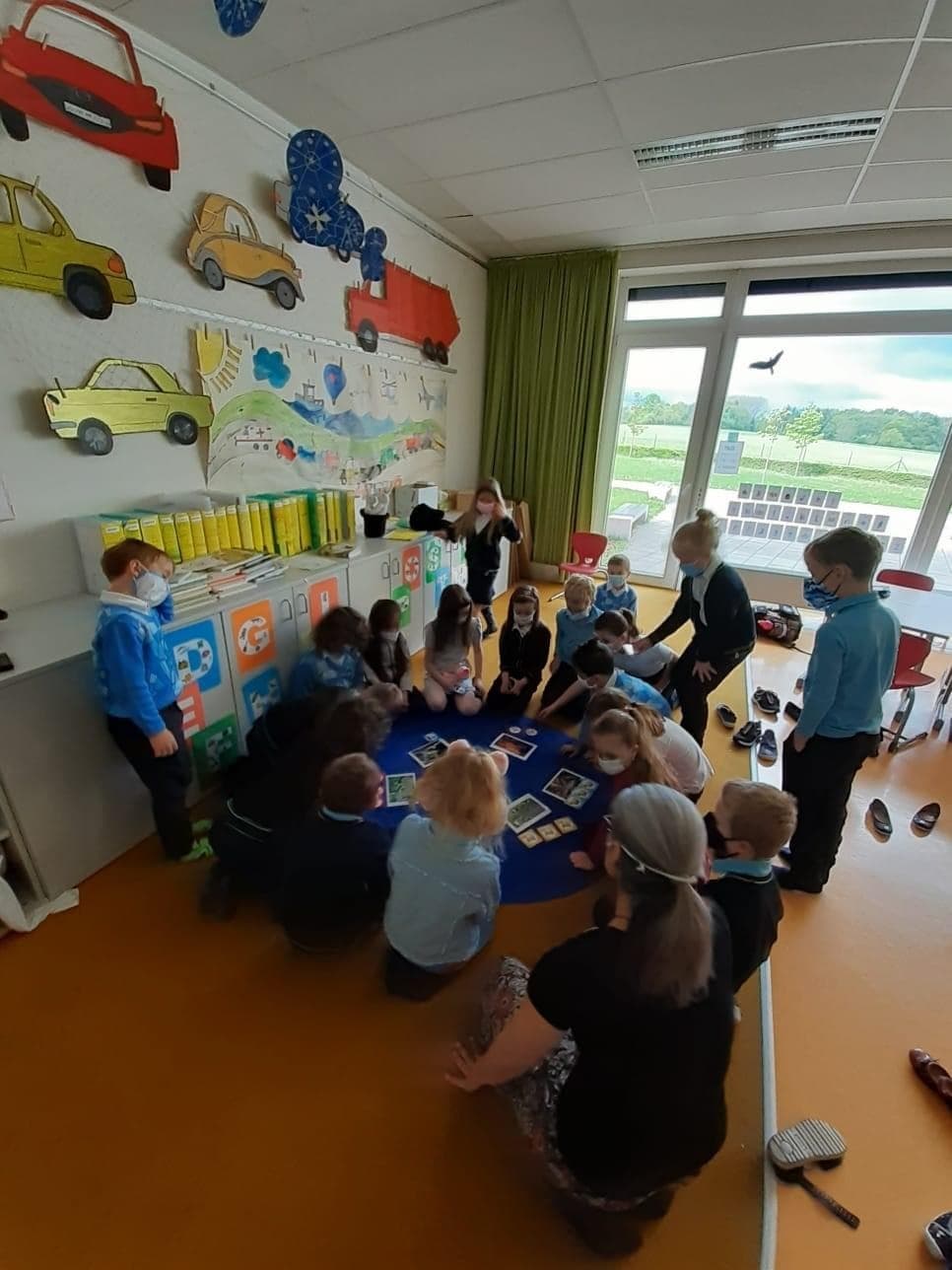 Class 2
Class 2 had an exciting week! We filmed our "Safely Crossing the Street" videos for Class 1 and had a grand premier on Friday! We also began work on a musical surprise….you will just have to wait to see the results! We continued work in our Incredible English books and learned the three differed sounds "ed" can make in words. It was a busy week for Class 2 but they all rose to the challenge beautifully! (CJ)
The theme of this week was fauna, and not only African fauna. We painted, described, read or demonstrated animals. We also practiced geometry using geoboards and counted time. We can already handle the whole multiplier and we also add and subtract in writing to a hundred. The icing on the cake was Thursday's sports performance by the Globetrotters with Maruška, Sašenka and Michal Klauz. They ran an amazing 5 km. They are fighters! Thank you. (ŠD)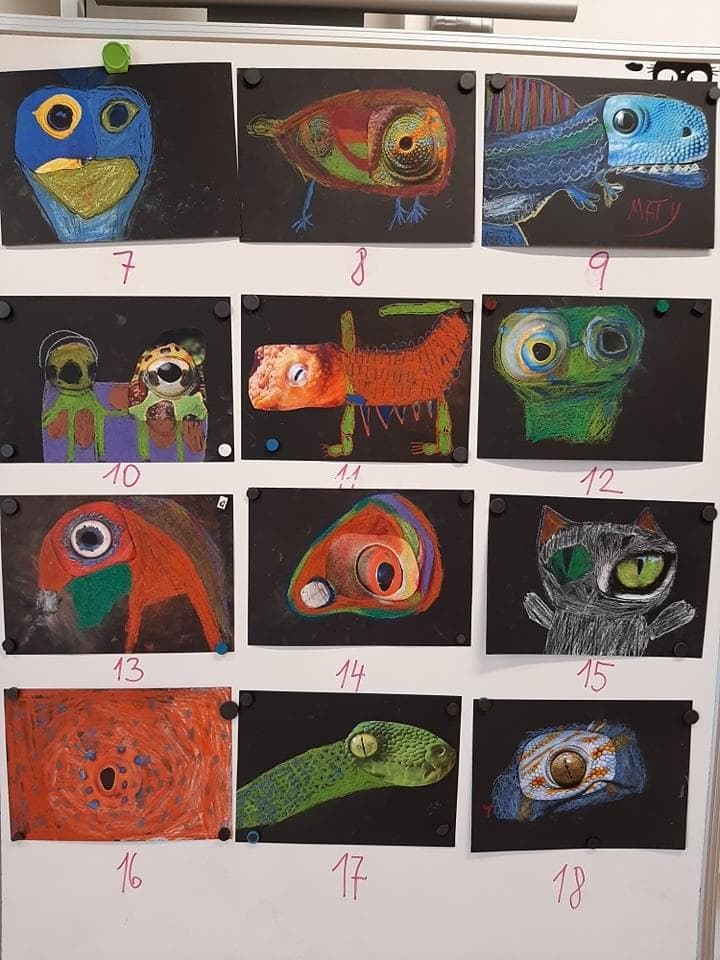 Class 3
Uncle Bill the inventor came to visit the kids in the Incredible English book, and class 3 learned what it takes to be an inventor and what an inventor does this week. We are now working on our very own inventions, which we will present to the class next week. We also learned about daily routines and learned to talk about them using present simple to express repeated actions. Finally, class 3 learned about the 17-year life cycle of cicadas in the US which will culminate this summer. (JD)
The Researchers report that our new inhabitants of the class are lively to the world and they are growing nicely! We are, of course, talking about the expected butterflies turning from caterpillars. Every housekeeper got his name and his room, he has enough food and strength! We could say the same about third-graders, because in the preparation of presentations, our class was divided into many small sectors, where everyone researches in their field. We haven't forgetten about mathematics, the Czech language and movement - we got up from our chairs and set off into the field. We enjoy every day, join us! -Your researchers, Marie, Andrejka and Martin.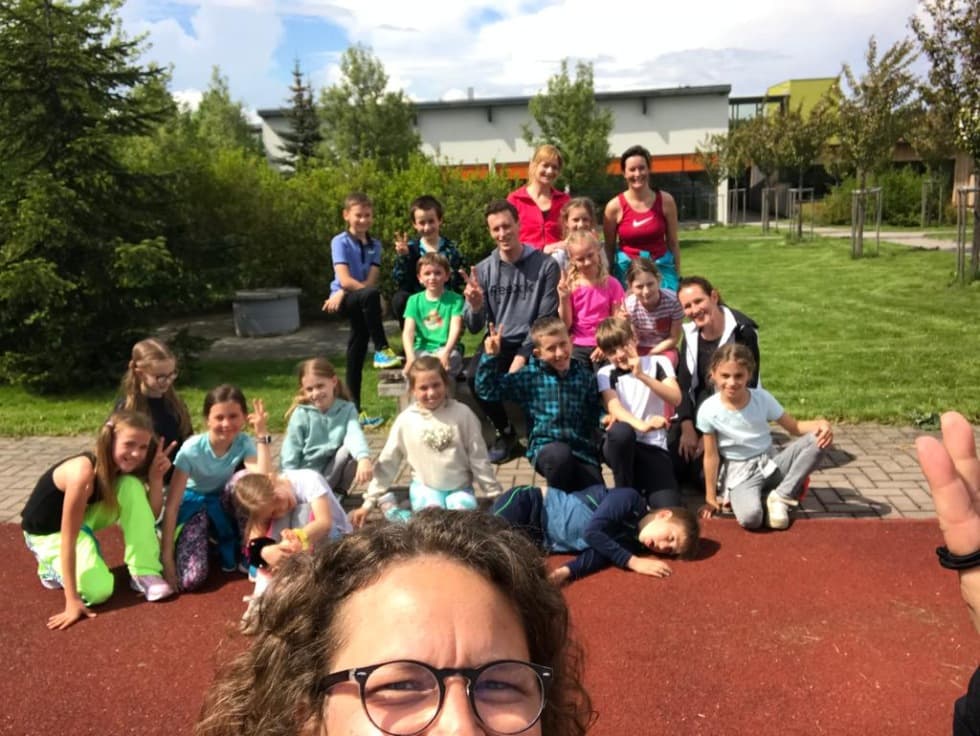 Class 4
Class 4 finished their presentations on advertisements and colors in advertising this week. Students will reveal their product logos and the colors they chose next week and present their thought process behind the designs and colors. We also began unit 8 in Incredible English and focused on the word like and its different uses. We finished the week with a game reviewing color idioms. (JD)
Fourth-graders didn't appeal, and how did it sit with them?
For a whole day, a group of fourth-graders devoted themselves to the life of Master Jan Hus. This well-known priest accompanied them in the Czech language and other subjects. The highlight of the day was a small theatrical production that dealt with condemnation and subsequent termination. The acting performances were admirable and sometimes a comedic piece emerged from this tragedy. Since no one appealed, several students ended up on the border ... Terezka, Monča and the quarters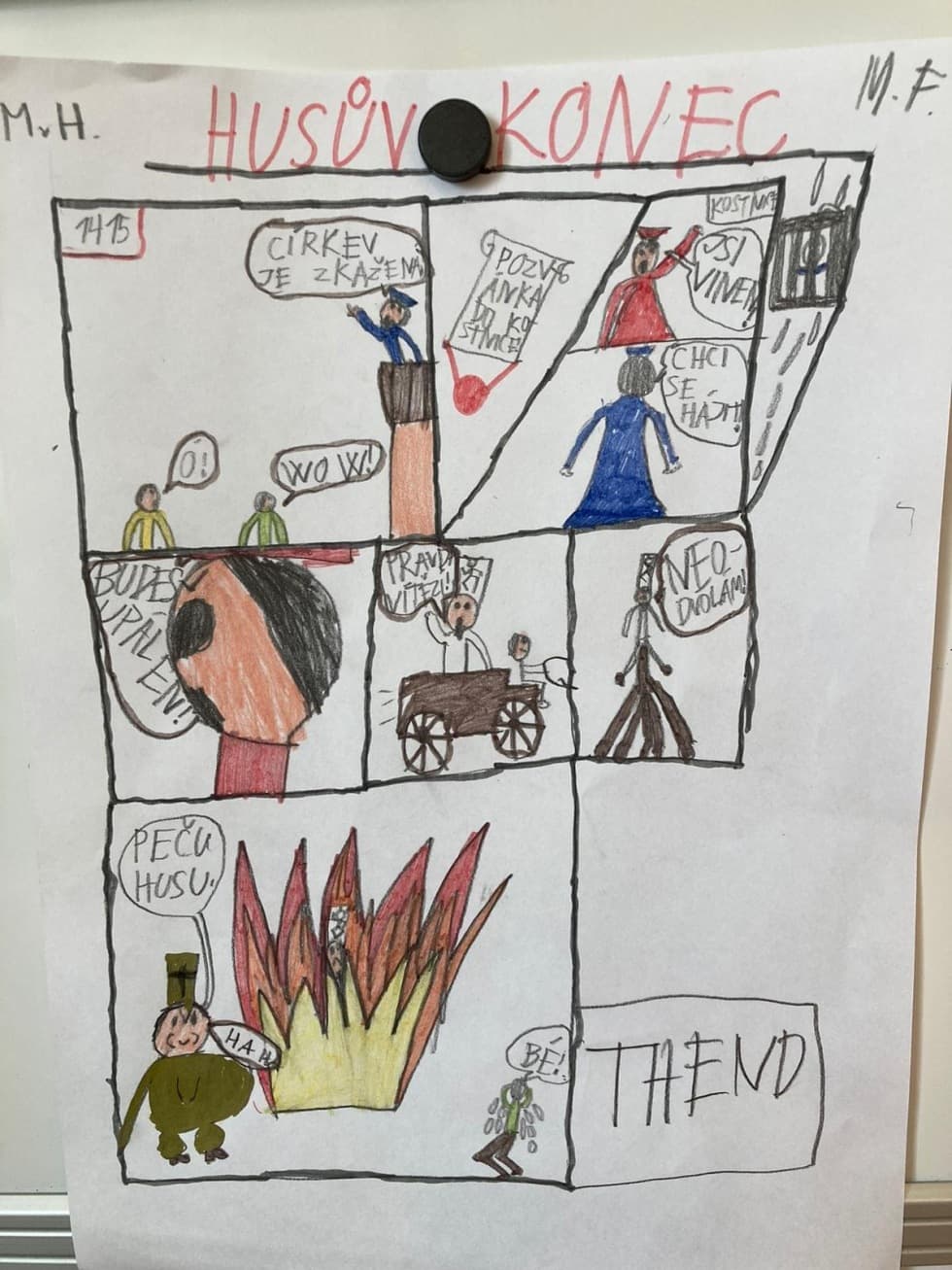 Class 5
As the PET approaches next week, we did some great practice for it this week. We also started analyzing the results of our Statistics and Probability project. We are looking forward to sharing our results. Of course it can't be all work and no play, so on Thursday class 5 once again became a music studio as the composer and producer extraordinaires continued working on their excellent tunes! (LR)
This week, the students finally calmly focused on the field presentations. They selected topics, created concept maps, outlines, and some had already processed their information into individual slides in PowerPoint. In addition, we continued to read the book Transport for Eternity, solved word problems and also focused on an art project for the ten-year anniversary of the school. The children tried to paint sketches of the primary school. In addition, the results of the admission procedure, in which the fifth graders were extremely successful, were finally published. Congratulations to all! (SČ)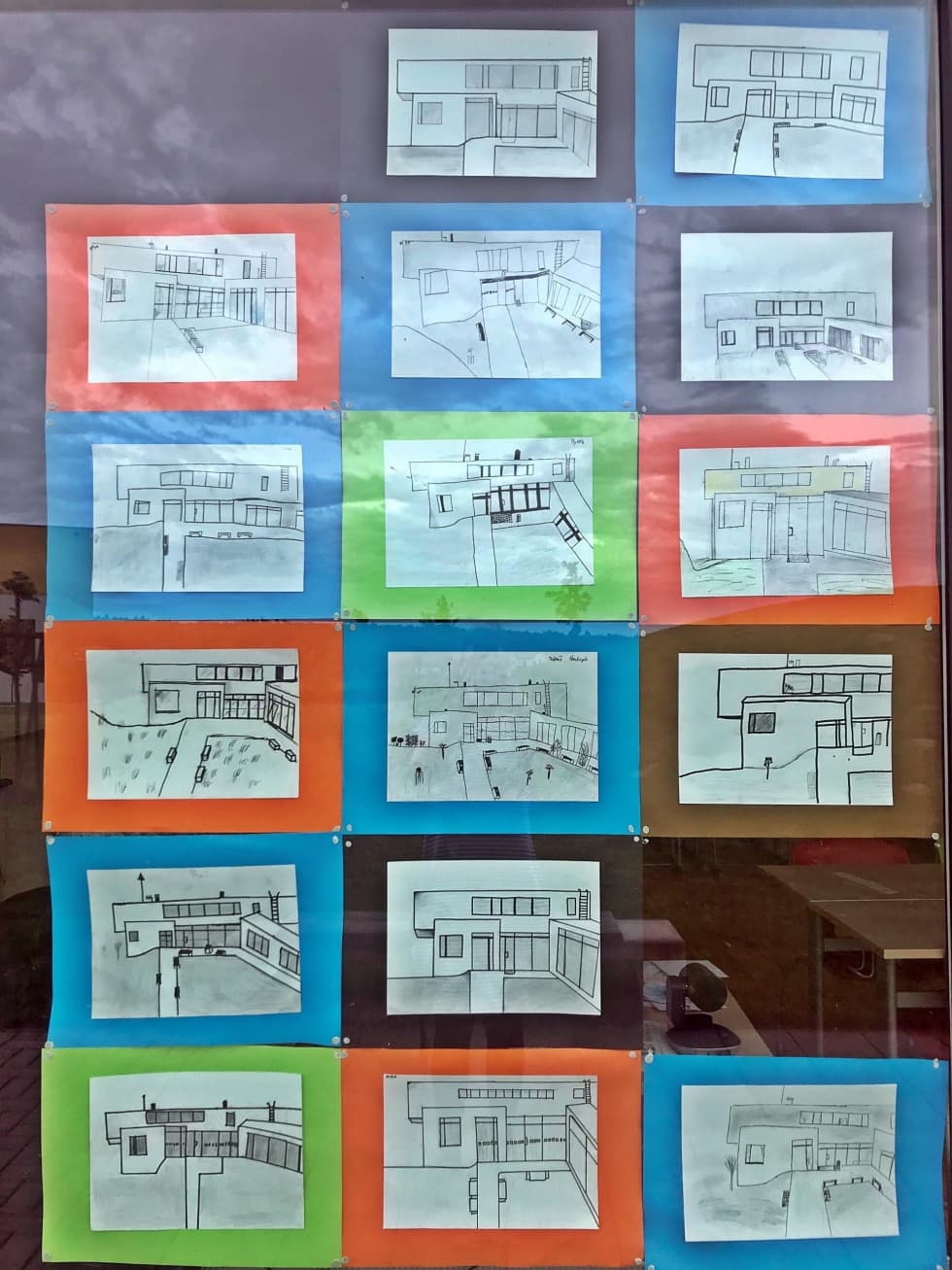 So I will finish this up, there is plenty of other reading for the weekend, which we hope you enjoy very much. Take care and have a peaceful and relaxing weekend.
Your Primary School Team
Article.
lb_footer_author()