Report from the Chýnov expedition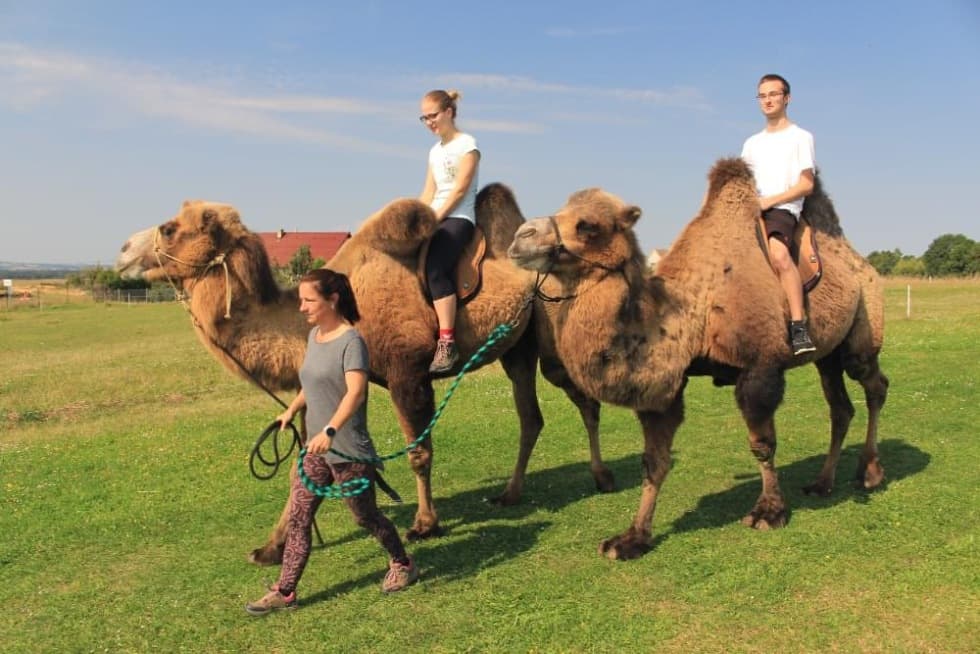 On Friday we had the special event - a full day visit to the camel farm Záhostice. We completed a complete practical lecture program on dromedaries (single camel), ranger (double-humped camel) and llamas. The program was led by the owner of the farm, Mrs. Žaneta Krátošková. Each students pair received their camel as study material and could study all the physical characteristics in real detail during the walk with them, as well as the fact that if this animal decides up to 800 kg, it will not go somewhere or do something - you won't do much with it.
A part of the program was also a unique ride on the camels, where each student tested that the camel is really a MOST bigger and taller animal than a horse. The program also included sitting by the fire and toasting great meats from a local butcher, so we really enjoyed the whole day with the camels.
On Saturday morning, the mycologically famous nature park Turovecký les near Chýnov awaited us. We were surrounded by dozens of species of mushrooms, and in the afternoon I even had to issue a ban on mushroom picking because our baskets were already overcrowded. The students were divided into mushroom groups and managed to find and identify 62 species of mushrooms. In the afternoon we arrived at our oldest mycological reserve - NPR Luční (announced in 1988). In this unique habitat, we had the opportunity to observe rare fungi of the type – hřib Le Galové, hřib medotrpký, hřib rudonachový či křemenáč dubový. These species most people will not see in a lifetime because they are very rare.
Saturday night was then marked by the processing of mushrooms, guitars by the fire and a well-deserved rest.
On Sunday morning, after packing the tents, a knowledge test of prices followed, and then we went on foot for the last part of the program. An excursion to an eco-farm in the village of Lejčkov was waiting for us. Mrs. Volková and her daughter and husband have prepared an excellent educational program for us. Students had the opportunity to experience one eco-farm day with everything, including manual activities on the farm routine. The whole program culminated in an invitation to an excellent lunch of farm products, which is difficult to describe in words…
Mrs. Nevrlá and her husband also deserve special thanks in her amazing pension Pacovka. Many thanks also to us for feeling at home here all the time and their legendary cuisine, including homemade baked cakes, replenished us at all times with the energy needed to survive the rich program.
The event ended in great success, everyone survived in good health and I believe that the students again gained a whole range of knowledge and skills that will be useful to them in life.
Article.
lb_footer_author()